The Philippines market
Thousands of Filipino students choose to study in New Zealand every year and there are many opportunities for education providers looking to explore this market. There are also some immigration risks that education providers will be able to mitigate through their approach to marketing and recruitment in the Philippines.
Applications processed & approval rates
For year ending 30 June 2016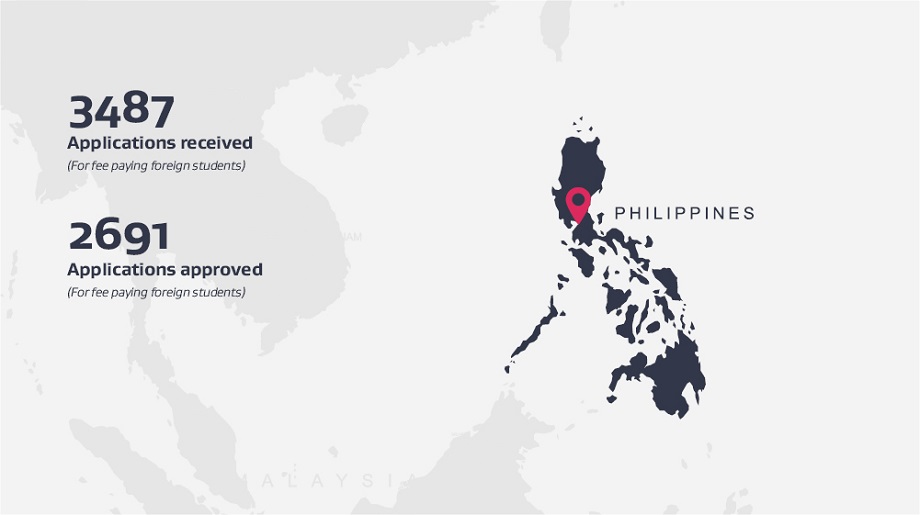 Country facts & figures
The Philippines has a population of 100 million.
The Philippines has a high literacy rate – UNESCO Institute of Statistics estimates that in 2015 98% of people aged 15 to 24 years were able to read and write.
The Philippines has a large number of internationally outbound tertiary students – UNESCO Institute of Statistics estimate that in 2013 over 11,000 students travelled outside of the Philippines for the purpose of tertiary education.
The Philippines is a migration market, with approximately 90% of Filipino students choosing to remain in New Zealand after completing their study via post study work visa pathways or other visa categories. There is currently a low incidence of Philippine nationals who are unlawful in New Zealand.
The most common programmes of study undertaken in New Zealand by students from the Philippines are in healthcare and business. There are opportunities for providers to diversify the types of programmes they market in the Philippines.
Student visa facts & figures
The most common reason for student visa application declines is due to applications not meeting funds requirements. This is often due to lack of history of funds or lack of evidence of the source of funds. No history of funds and unexplained lump sum deposits may indicate that the funds have been deposited into the account for the purposes of obtaining a visa and may not genuinely be available to the student in New Zealand.
From 1 January 2016 to 31 July 2016, INZ decided a total of 915 student visa applications[1] from Filipino nationals applying from outside New Zealand.

644 or 70% of these applications were approved.
674 or 74% of these applications were to study at Private Training Institutes; 175 or 19% were to study at Institutes of Technology and Polytechnics; 37 or 4% were to study at universities.

During September and October 2015 there was a surge in student visa applications from applicants in the Philippines. This increase was due to a change to English language testing requirements (the New Zealand Qualifications Authority's Rule 18 change). This resulted in the visa application numbers for the first half of 2016 being lower than previous years.
Student visas decided by INZ Manila for Filipino nationals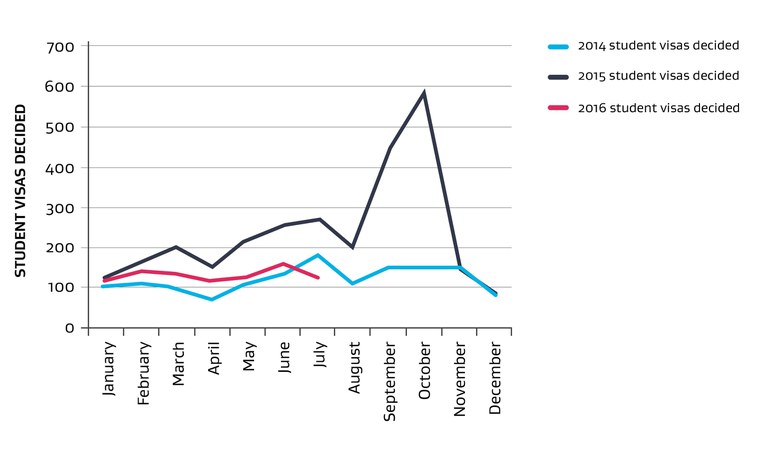 | Month | 2014 | 2015 | 2016 |
| --- | --- | --- | --- |
| January | 100 | 125 | 122 |
| February | 108 | 168 | 141 |
| March | 98 | 199 | 131 |
| April | 68 | 150 | 116 |
| May | 108 | 217 | 127 |
| June | 134 | 256 | 158 |
| July | 175 | 271 | 120 |
| August | 108 | 201 |  - |
| September | 147 | 439 |  - |
| October | 149 | 588 |  - |
| November | 150 | 146 |  - |
| December | 82 | 87 |  - |
---
[1] Student visa application types: Full fee paying, English language studies, Scholarship holder