Who is involved?
Welcoming Communities Te Waharoa ki ngā Hapori is led by Immigration New Zealand (INZ) in collaboration with the Ministry of Ethnic Communities, along with the Human Rights Commission.
Immigration New Zealand is delighted to welcome eight new councils and their communities into the expanded Welcoming Communities programme.
The new councils are:
Rotorua Lakes Council
Napier City Council
South Wairarapa District Council
Upper Hutt City Council
Marlborough District Council
Hurunui District Council
Westland District Council
Waitaki District Council
These councils will be joining eighteen councils and communities already taking part in the programme:
Hamilton City Council
Tauranga City Council
Western Bay of Plenty District Council
Hastings District Council
Palmerston North City Council
Whanganui District Council
Rangitīkei District Council
Horowhenua District Council
Masterton District Council
Nelson City Council
Tasman District Council
Ashburton District Council
Selwyn District Council
Queenstown Lakes District Council
Central Otago District Council
Gore District Council
Invercargill City Council
Southland District Council
Welcoming Communities – Tauranga
Welcoming Communities – Western Bay of Plenty
Welcoming Communities – Whanganui
Welcoming Communities – Palmerston North
Welcoming Communities – Ashburton District
Welcoming Communities – Selwyn District
Welcoming Communities – Southland
Welcoming Communities - Central Otago
Immigration New Zealand is continuing to grow membership of  the Welcoming Communities programme. Councils and communities that would like to be part of the programme are invited to submit an expression of interest.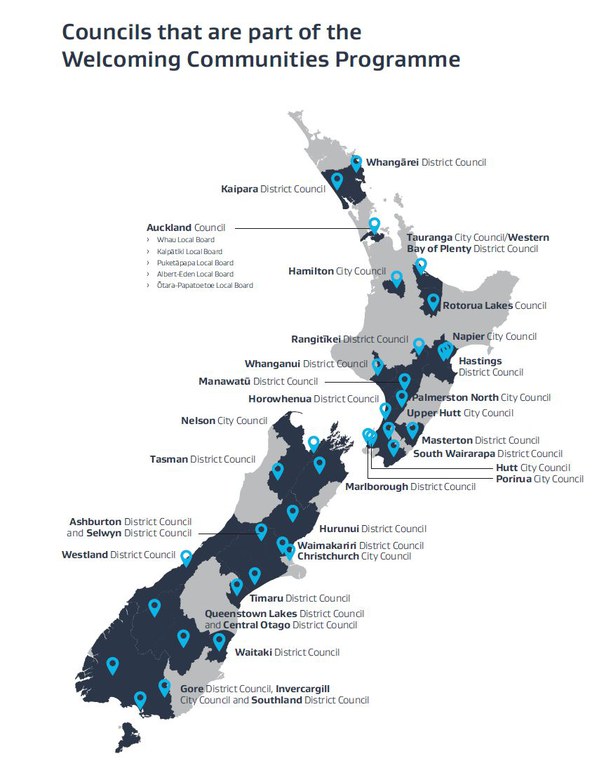 Welcoming Communities coordinators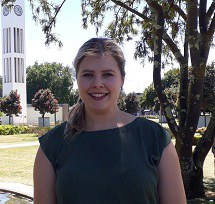 Stephanie Velvin
Welcoming Communities Coordinator, Palmerston North City Council
Stephanie is from Palmerston North, and a graduate of Massey University's politics and social policy programmes. Along with travelling overseas, Stephanie previously worked for Immigration New Zealand. Her love of her hometown is a driving factor for her now working for the Palmerston North City Council on the Welcoming Communities programme. The programme is a great opportunity to showcase the city, its lifestyle and its people.
Through Welcoming Communities, Stephanie is celebrating the current excellent newcomer support work, as well as building connections between locals and newcomers. 
Interview with Steph Velvin: Welcoming Communities Coordinator — Welcoming International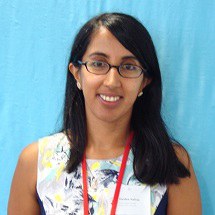 Haidee Kalirai
Diversity and Culture Advisor, Tauranga City Council (Tauranga/Western Bay of Plenty)
Haidee was born in Cambridge, and completed her graduate degree from University of Waikato's psychology faculty. Her working background has been in community development, with a focus on refugee resettlement and supporting migrants.
Haidee recently completed a three-year community development scheme project with the Department of Internal Affairs and New Zealand Red Cross on the social participation and integration of refugee background communities in the Waikato.
Her passion for working in this area stems from her family background, in which her grandparents and father migrated to New Zealand from northern India. She is keen to showcase the positive contributions of migrants and the benefits diversity brings to an area, along with establishing ways to build a greater sense of belonging for newcomers.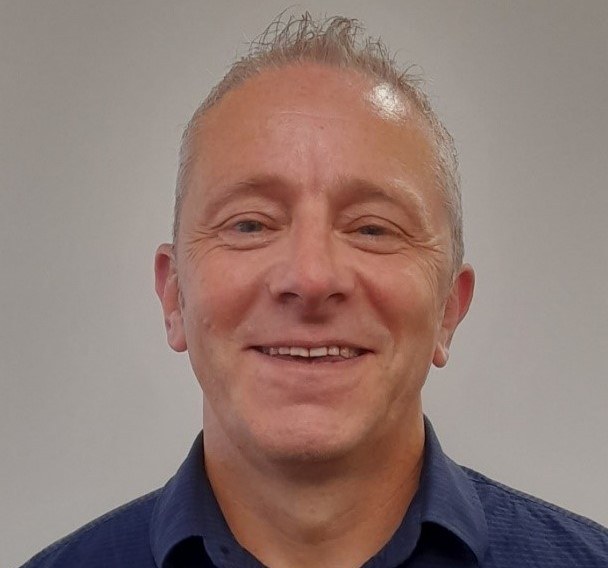 Mark McCann
Newcomers Network Coordinator, Gore District Council
Mark is the Newcomers Network Coordinator at Gore District Council. He also coordinates the 'Mayoral Taskforce for Jobs' and the Youth Council in Gore, a role in which he works with a diverse range of people, including newcomers and youth.
Mark's love of travel carried him from Wales to New Zealand over 20 years ago. During his travels, he had heard nothing but good things about New Zealand, so he decided to settle. In his words, New Zealand is "one of the friendliest places I've ever visited". A staunch rugby fan, he awaits the day he can celebrate Wales beating the All Blacks!
Mark has a background in Special Needs education and advocacy. During his 20 years in the sector, he has developed a passion for supporting newcomers to New Zealand and advocating on their behalf. The warm reception he received as a newcomer to this country inspires his work in creating a welcoming and inclusive environment for all.
Mark currently supports and promotes Gore's 'International Connect Group', which has grown in membership during his tenure. The members, which include newcomers and locals, work together to help foster a sense of belonging, inclusion and cooperation.
Mark is keen to hear from newcomers to Gore about their needs and aspirations, so that, together with the wider community, they can create new and exciting opportunities for the district.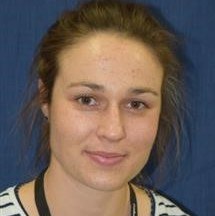 Harriet McKenzie
Community Activator, Whanganui District Council
Harriet is a member of the Community Wellbeing Team at Whanganui District Council. Her role includes supporting newcomers, promoting community safety and growing 'play' across Whanganui with Sport Whanganui. It involves, she says, an "awesome" mix of people and play, and it fits nicely with her background in population and community health. Harriet is constantly inspired by the people in her community and their collective effort to ensure that everyone in Whanganui  thrives.
Harriet spent her early years living in Nepal, later moving to Whanganui with her family. Although she loves visiting Nepal, she considers Whanganui home.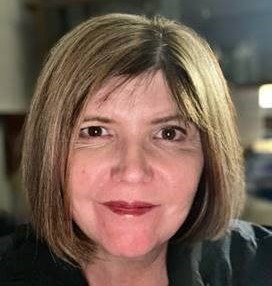 Kirstin Dingwall-Okoye
Community & Economic Development Advisor, Selwyn District Council
Kirstin has extensive experience in the non-government and humanitarian sectors.  Before joining Selwyn District Council, she worked in New Zealand and abroad for a number of non-government organisations with a particular focus on vulnerable peoples.
In the past decade, Kirstin has specialised in older adult health, working with former refugees and migrants to build equity, knowledge and access to healthcare.   She holds a Post Graduate Diploma in International Development.
Kirstin enjoys bringing new ideas to life, collaborating with others and challenging herself to think differently. She values Selwyn District Council's innovative culture and its willingness to think outside the box to build stronger and connected communities.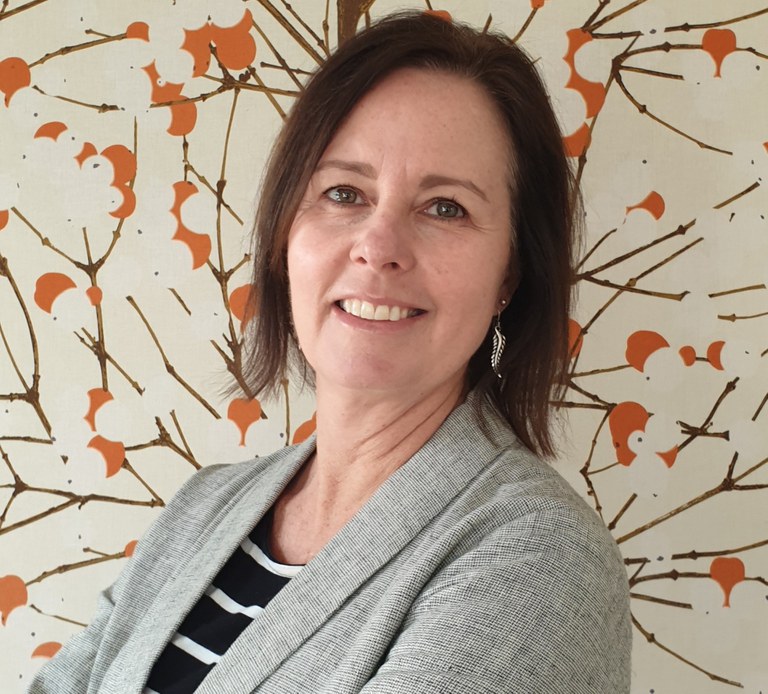 Deborah Beange
Welcoming Communities Officer, Central Otago District Council
Deborah is from Texas, but moved to Central Otago 6 years ago with her Kiwi husband and two young children.  She received her political science graduate degree from The George Washington University in Washington, DC and has spent most of her career working in governance, both in the U.S. and overseas. 
Deborah's passion for Welcoming Communities stems from her own personal experiences as a newcomer.  She sympathizes with how difficult it is to assimilate into a new community and wants to do what she can to make it easier for others.  Living and working in different countries made her realize the importance of making a new community feel like home.  Deborah enjoys highlighting the important role that migrants and newcomers play and helping them to fully participate, contribute and thrive.  She is proud to call beautiful Central Otago her home and wants others to feel welcomed.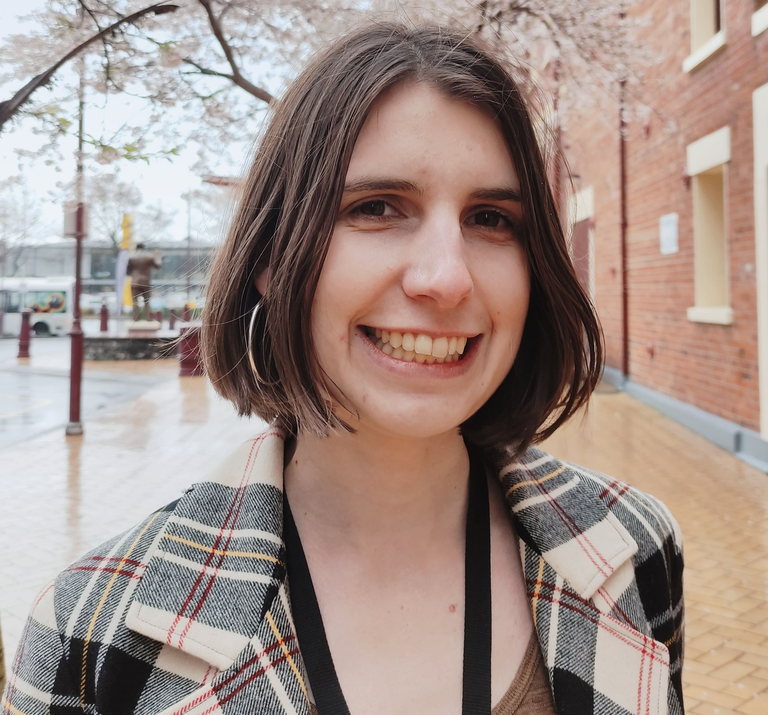 Amelie Schuberth
Engagement Coordinator, Invercargill City Council
Amelie works as an Engagement Coordinator for the Strategy and Policy team at Invercargill City Council. She is responsible for building and maintaining relationships with various groups and ensuring that the community has a say on Council's decision through consultations. She also coordinates the Welcoming Communities programme.
Having moved from France to New Zealand in 2017, Amelie can confirm that the South of New Zealand lives up to its hospitable reputation. She enjoys meeting people from all horizons and  is committed  to help newcomers and migrants to settle down and connect within the community.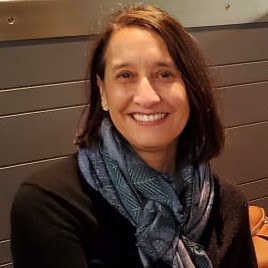 Silvia Dancose
Welcoming Communities Coordinator, Queenstown Lakes District Council
Silvia is Canadian-born and comes from a mixed background; her father was French-Canadian and her mother was Mexican. She is fluent in French, Spanish and English.  Silvia moved to Hamilton, New Zealand in 2011 and has been living in Queenstown since December 2019.
Her career pathway has led her to occupy many roles in the NGO sector working alongside and advocating for newcomers, migrants and refugees in Canada and New Zealand.
Silvia worked for nearly 9 years for New Zealand Red Cross in the areas of settlement and employment of refugee background persons. 
Silvia describes herself having a natural inclination to connect with people from all ethnic backgrounds and walks of life. Her upbringing has a lot to do with the fact that she lived in many developing countries as a child and teenager because of her Dad's work. She is passionate about diversity, inclusion and equity and considers them as integral parts of any welcoming community. 
Silvia completed a Certificate in Intercultural Studies to complement her Post-Graduate Diploma in Adult Education and bachelor's degree in Education.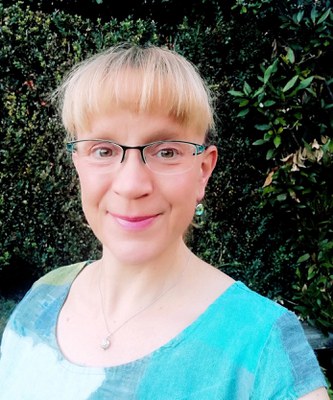 Birte Becker-Steel
Welcoming Communities Officer, Tasman District Council
After living on the wild West Coast for the last eleven years, Birte recently moved to the Tasman District to start her new role as the Welcoming Communities Officer. The gentle hills and vineyards of the Upper Moutere area remind her of her birthplace – the Rhineland in Western Germany.
Birte is a fully qualified Social Worker. She has been a Workshop Facilitator and Coach running her own company for many years offering trainings on topics like Cultural Intelligence, Stress Management & Wellbeing and Workplace Resilience.
In her previous role as the Settling In Service Coordinator for the Westland and Grey Districts, Birte supported newcomers from over 60 different ethnicities to settle into the community, engage in local activities and develop friendships. Diversity is very important to her; it reflects in all areas of her life – even the dinners she cooks are usually very colourful.
Birte is looking forward to establishing many meaningful connections and making the Tasman District more inclusive and welcoming for everyone.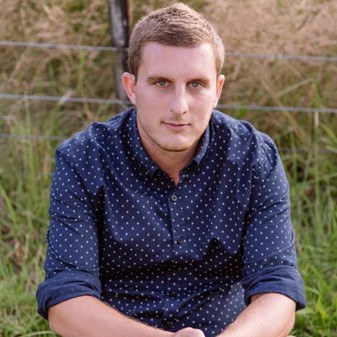 Bill Huppler
Welcoming Communities Coordinator, Nelson City Council
Ko Pukematawai te maunga e rū nei taku ngākau
Ko te Maitai te awa e mahea nei aku māharahara
Nō Ingarangi ahau
E mihi ana ki ngā tohu o nehe, o Te Tauihu
Ko Terry toku matua
Ko Jude toku whaea
Ko Sarah toku wahine
Ko Bill Huppler toku ingoa
Nō rēira, tēnā tatou katoa
Bill moved to Aotearoa New Zealand  from the UK for the 2011 Rugby World Cup. He lived in Tāmaki Makaurau (Auckland) until moving to Whakatū (Nelson) in March 2021. Prior to moving into the Welcoming Communities Coordinator role with Nelson City Council he was previously a Community Partnership Adviser working closely with former refugee and migrant communities. Bill has a background in community sport and recreation and is a strong advocate of the universal language of sport as a way of connecting communities.
Bill is very passionate about improving the experiences of newcomers to Whakatū through collaboration with communities and the pre-existing agencies across the city, to explore solutions to some of barriers these groups face upon arriving in our beautiful city.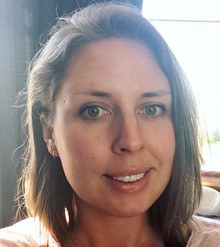 Rhianna Flaherty
Welcoming Communities, Officer, Rangitīkei District Council
Originally from Canada, Rhianna has lived in New Zealand for over 8 years. She has spent most of her time living in Otago and the North Island.
Rhianna holds an Education degree from the University of Alberta in Canada. She has worked in Community Services, outdoor education, and adventure tourism both in New Zealand and abroad.
Rhianna's interest in the Welcoming Communities programme stems from her personal experiences as a newcomer in New Zealand and from her various volunteer roles. Rhianna loves supporting people to find meaningful ways to engage with their environment and community. She is interested in finding ways to support diversity and improve equity within her own community.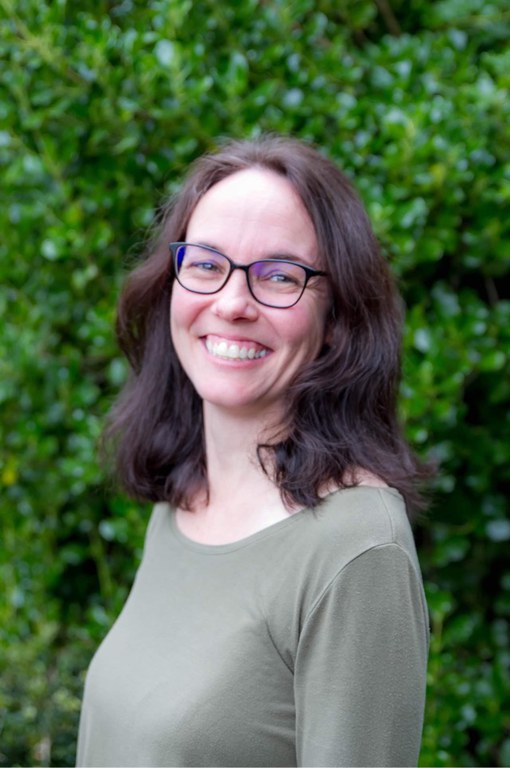 Liz Lambert
Welcoming Communities Coordinator, Hastings District Council
Liz is a member of the Community Development Team at Hastings District Council. Her parents are from the North East of England, however Liz and her sisters were born in Canada and moved to Singapore when she was young. The family then moved to New Zealand, the place she now calls home. Liz grew up in Kirikiriroa/Hamilton and now lives in Heretaunga/Hastings with her husband and two teenage children.

Liz has a Bachelor of Science from the University of Canterbury and has completed an honours year in Resource and Environmental Planning at the University of Waikato. She enjoys working in roles that unite people to work together to achieve greater outcomes. Prior to becoming the Welcoming Communities Coordinator at Hastings District Council, Liz was part of Safe Communities as the Safer Napier Coordinator, supporting organisations, agencies and communities to work together to improve community safety. She looks forward to actively celebrating the cultural diversity within Hastings district and supporting other newcomers as they make Heretaunga their home.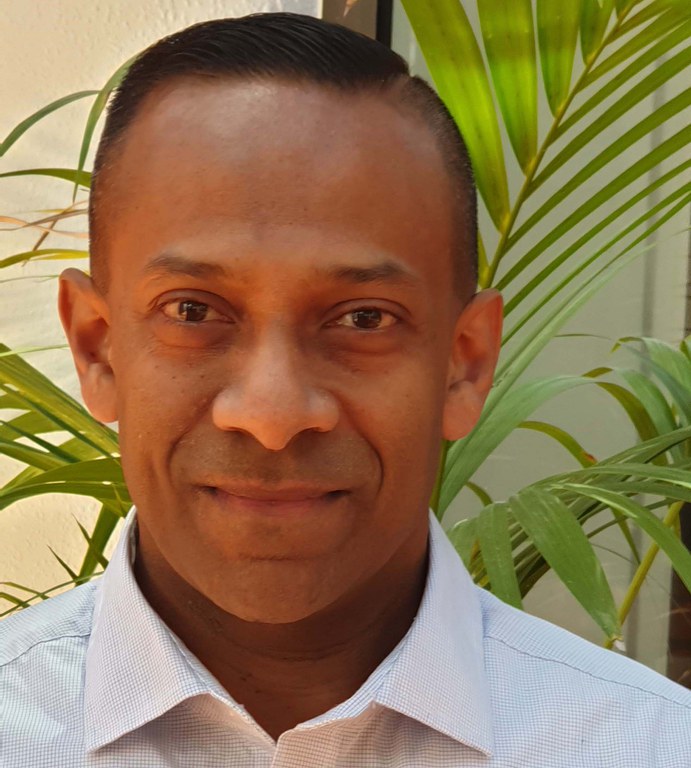 Raj Seneviratne
Welcoming Communities Coordinator, Rotorua Lakes Council
My family and I emigrated to New Zealand from Sri Lanka in 2011, where my wife came as a student. She is now a Resource Teacher Learning and Behaviour, working in schools locally in Rotorua. We have two children, our son is almost 21 and is at Waikato Uni in his last year completing his Bachelor of Business, and our daughter is in her last year of high school.
As a new migrant all those years ago Settlement Support network personally helped me to get started and pointed me in the right direction by introducing me to the New Kiwis program, etc. (conducted by the Auckland Chamber of Commerce). However, I know the migrant journey isn't an easy one and most new migrants don't know where to go or who to ask. Therefore, I am all the more passionate about this role as I am now in a position where I can help those who come in to our city to get settled in by being that "go to" person. The Welcoming Communities Coordinator's role is part of the Thriving Communities group of the Rotorua Lakes Council.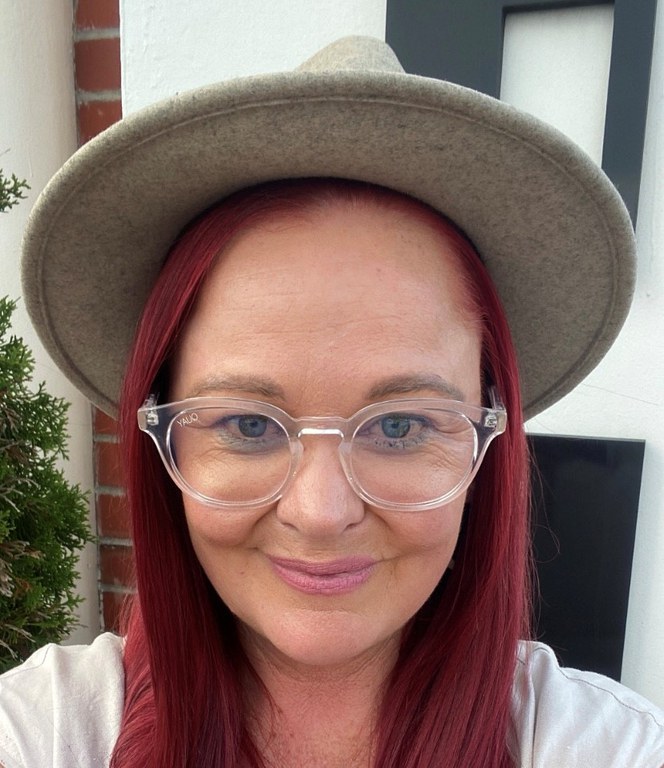 Natalie Paterson
Welcoming Communities Facilitator, Hurunui District Council
After spending some time abroad Natalie returned home to North Canterbury about 10 years ago. She has spent most of her adult working life creating better outcomes for young people, however, more recently has been working in the community development space. She developed effective workplans around family violence and drug and alcohol harm prevention while at the Waimakariri District Council.
Natalie currently manages the Together Hurunui network of some 200+ providers which identifies gaps in their social sector and works to close them. Much of that work sees her advocating for local migrants and newcomers. She is looking forward to getting started in the Welcoming Communities role which complements the partnerships and networks she has already developed.
Natalie and her husband have travelled extensively, even taking a year off pre-covid to do just that. That experience gave them an opportunity to learn, listen and explore life that was very different to life in NZ. Upon arriving home, they embarked on another adventure converting an old Anglican Church into a home in the Hurunui High Country.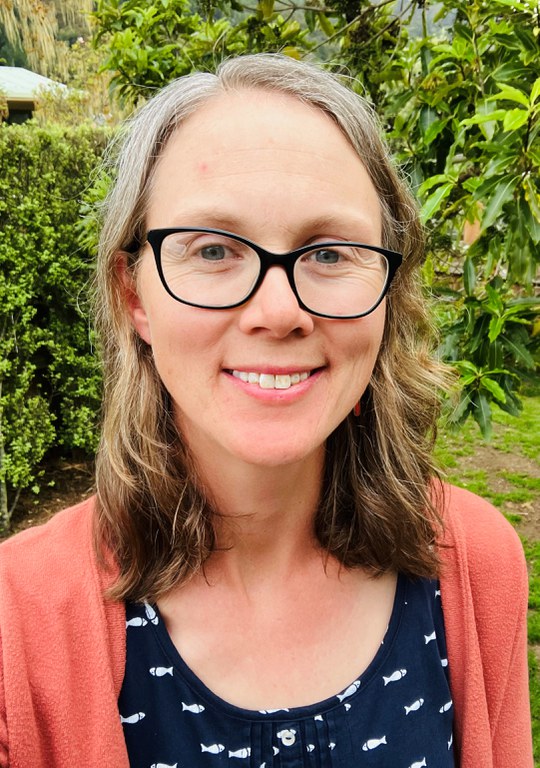 Heather Barnes
Welcoming Communities Coordinator, Marlborough District Council
Heather is from Canada and came to Aotearoa on the working holiday programme as a sea kayak guide 10 years ago. She loves living in Picton with her Scottish husband and two kiwi born children. Heather has worked as a program coordinator with multicultural non-profit organisations in Canada as well as taught English as a second language in Canada, Japan, South Korea and Martinique, France.
She has a Bachelor of Arts degree in International Development from the University of Guelph in Canada and spent time studying for her degree in Cuba and India. Before beginning her role with the Marlborough District Council she worked as the Zero Waste Coordinator at Envirohub Marlborough.
Heather is passionate about creating a sense of belonging for newcomers and building strong connections between newcomers and the Marlborough community. She is looking forward to supporting a diverse and inclusive Marlborough.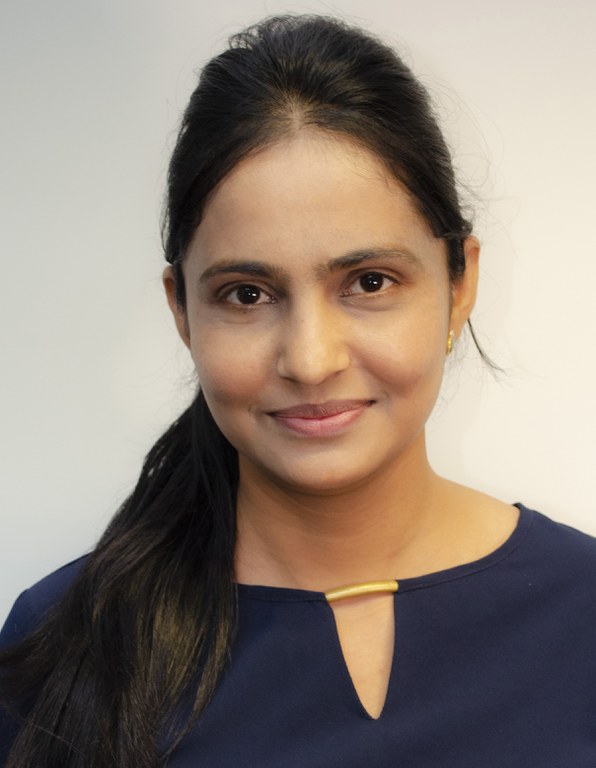 Arti Kadian
Welcoming Communities Advisor, Masterton District Council
Arti was born and raised in India. She moved to New Zealand to join her partner along with her 2 young boys. She completed her bachelor's degree in technology (Computer Science) followed by Bachelor of Education from India.
She spent most of her career working with private and government organisations in India and Scotland. She got the inspiration to work for community after working in India as a Teacher and Education Coordinator. She worked towards girls' education and their empowerment in rural parts of India.
She likes meeting and supporting people from all over the world. Being an immigrant herself she found it hard to know things and where to go for help. That made her more passionate about her role to provide a welcoming environment for everyone in the community. She wants to be that person whom newcomers can rely on. Arti loves supporting people and is looking forward to making Masterton a welcoming space for everyone.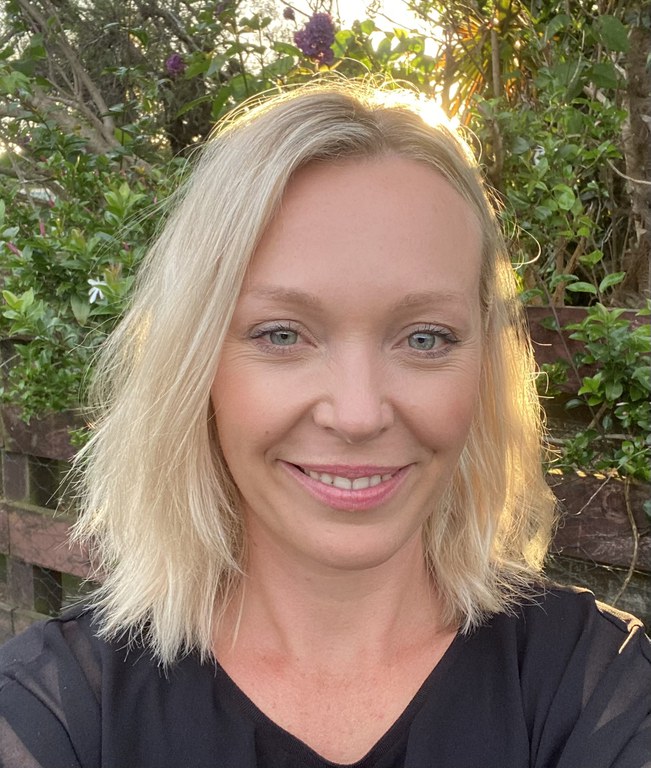 Sonya Gervais
Welcoming Communities Advisor, Napier City Council
Sonya grew up in New Zealand, mostly in the city of Napier. On completion of a degree at Victoria University in German and Linguistics and a diploma in teaching ESOL, she lived and worked in Germany and then in France for a number of years. Sonya later returned and is happy to be back living in Ahuriri/Napier with her husband and young son.
Her experience abroad made her realise how important it is to find a sense of home and belonging. She believes being able to connect and engage with the locals is enriching for everyone and that a community can only flourish when everybody works together.
During Sonya's time working with visitors, migrants and refugees in a teaching capacity, she felt extremely rewarded. Being able to facilitate a newcomer's transition into New Zealand life and the local community is something dear to her heart and she is excited about the work being done nationwide with the Welcoming Communities Programme. Sonya is eager for newcomers to feel welcomed, supported and an integral part of Napier's wonderful community.
Partnership websites