Succeeding in job interviews resource launched
A new online resource for skilled migrants is the result of collaboration between Immigration New Zealand's Settlement Unit, and Victoria University's Language in the Workplace project and Workplace Communication for Skilled Migrants programme.
Skilled migrants have identified that competency-based behavioural interview questions are often a major stumbling block to securing employment here. Many New Zealand employers use this form of job interview, which is unfamiliar to most new migrants and makes it difficult for them to present themselves well, even if they are highly skilled in their professions.
The new resource 'Succeeding in job interviews' is available the New Zealand Now website. It has been designed to assist migrants in understanding and developing the skills they need to perform well in competency-based behavioural interviews. Succeeding in job interviews provides real-life examples of Kiwi interview scenarios and offers explanations as to why a candidate's responses are effective or not.  
The new online resource was launched in April by Judi Altinkaya, Immigration New Zealand's National Manager Settlement, at the 4th Asia-Pacific Language for Specific Purposes (LSP) and Professional Communication Association Conference 2017, hosted by Victoria University of Wellington. 
Judi describes the resource as an outstanding example of what can be achieved when 'gown collaborates with town', translating the excellent work of academic researchers into practical support for a broader audience.
"This collaborative resource makes a positive step to supporting new migrant job seekers, especially the partners and spouses of skilled migrants, so that they can succeed in interviews and contribute their skills in New Zealand workplaces." 
Succeeding in job interviews is based on research from Victoria University's Language in the Workplace project and draws on the experiences of participants in the Workplace Communication for Skilled Migrants programme.
Lecturer Nicky Riddiford is pleased that she and her fellow team members are contributing to better settlement outcomes.
"The Language in the Workplace Project team highly values the opportunity to collaborate with INZ to produce resources for new migrants. Working together on the resource to help newcomers become familiar with the New Zealand interview style has been a rewarding experience. We are delighted to contribute to a resource that can help migrants settle and find work in their new country."
There is also a version of the online tool for employers, so that they can understand the challenges interview questions present for some migrants.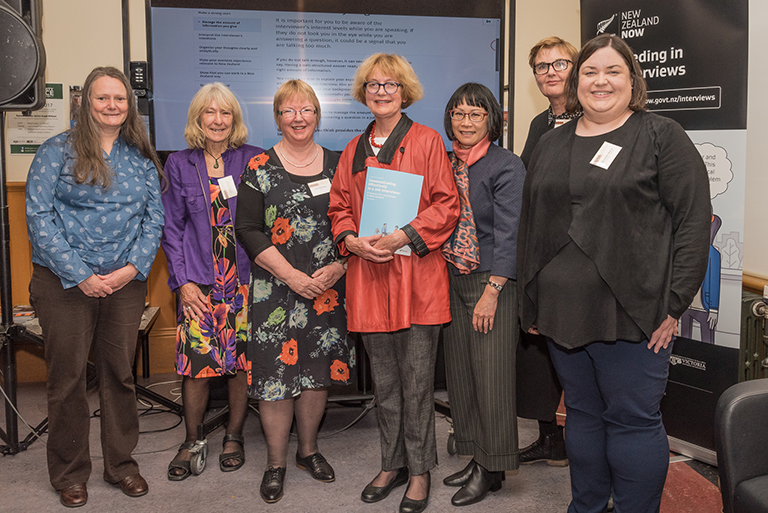 At the launch of Succeeding in job interviews, left to right: Bernadette Vine, Professor Janet Holmes, Judi Altinkaya, Nicky Riddiford, Dr Angela Joe, Judi McCallum, Associate Professor Meredith Mara.