Sector news
The latest news from the settlement sector
Awards
IPANZ Public Sector Excellence Awards 2017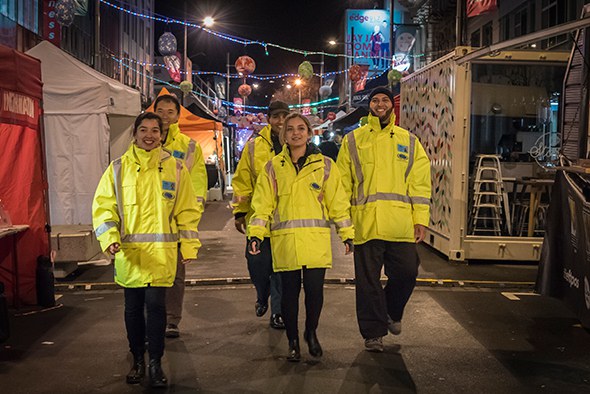 The New Zealand Police Community Safety Patrols have won the 'Building trust and confidence in Government' section of the IPANZ Public Sector Excellence Awards 2017, celebrating outstanding performance and innovative thinking in New Zealand's public sector.
Made up of volunteer recent migrants, the patrols have added an extra 500 hours of crime prevention patrols each month alongside Police while building the trust and confidence of ethnic communities.
Started in Auckland and extended to Wellington in 2016, the patrols will soon include Christchurch and Hamilton. The expansion of the Patrols beyond Auckland is an initiative in support of the New Zealand Migrant Settlement and Integration Strategy, which is led by the Settlement Unit of Immigration New Zealand.
Queen's Birthday Awards
Wallace Patrick Haumaha (Te Arawa, Tainui and Mataatua descent), Assistant Commissioner and New Zealand Police Deputy Chief Executive Māori, has been made an officer of the New Zealand Order of Merit for services to the New Zealand Police and Māori, Pacific and ethnic communities in the Queen's Birthday Honours.
Steve Canny, the manager of Venture Southland in Invercargill and champion of the region as a place for newcomers to settle, has been appointed a Member of the New Zealand Order of Merit in the Queen's Birthday Honours.


Appointments
Judi Altinkaya, National Manager, Migrant Settlement with Immigration NZ has been appointed Chair of the Intergovernmental Consultations on Migration, Asylum and Refugees' Integration Working Group. The 16 migrant-receiving countries meet quarterly to discuss approaches to settlement and related issues.
Auckland High Court lawyer Gurbrinder Aulakh has been elected the Chair of the National Board of English Language Partners New Zealand. He has had a long association with English Language Partners, having served as the Chair of its North Shore Centre and as a Member on its National Board. Originally from India, he is the first first-generation migrant to hold this post.
Rochana (Ro-ka-na) Sheward is the new Chief Executive Officer of the Auckland Regional Migrant Services (ARMS) Trust. She succeeds Dr Mary Dawson, who stepped down from the role last year. Mary is now the Co-Manager of the Strategic Community Brokers team, inside the Empowering Communities Unit of Auckland Council. Rochana was formerly the CEO of MacLaren Park Henderson South (MPHS) Community Trust.
Wen Powles is the new Director of the Office of Ethnic Communities.
"I am a Kiwi who has spent many years working in the Government sector working on foreign affairs, culture and education issues. I have come from Victoria University (which is also my alma mater) where I was the Director of the Confucius Institute. Previously, I was at Te Papa Tongarewa Museum of New Zealand as the International Strategy Adviser, Diplomat at the Ministry of Foreign Affairs and Trade working on our relationships with countries in Asia and the Americas, the United Nations, APEC and other institutions."
Wen, originally from Malaysia, is of Chinese heritage.


International rankings
New Zealand's 'happiness level' has been ranked at eighth place among 155 countries by the World Happiness Report 2017. Compiled by independent experts, the report was released at the United Nations.


Read the World Happiness Report 2017
Wellington has been declared the best place to live among 47 global cities according to a Quality of Life ranking issued by Deutsche Bank. The rating is based on purchasing power, crime, healthcare, cost of living, house prices, commuting time, pollution and climate.


Read more on the NZ Herald website




Publications
Asian investment in New Zealand
Asian Investment in New Zealand, a new report published by Asia New Zealand, has found that investment from Asia accounts for a relatively small share of all foreign investment in New Zealand. It also found that Australia, the United Kingdom and the United States are New Zealand's largest sources of foreign investment, representing 58 per cent.
Asian investment is less than 10 percent of the total. The report includes a number of case studies of New Zealand companies that have significant Asian investment. Some of these companies were founded by New Zealand residents who have migrated from Asian nations.
Report on the Asia New Zealand Foundation website
New Zealand perceptions of Asia
While eight out of ten New Zealanders say that Asia is important to New Zealand in economic and social terms, two-thirds of us say we know little or nothing about Asia. This is one of the findings of the annual survey of New Zealanders' Perceptions of Asia and Asian Peoples conducted by Asia New Zealand.
Report on the Asia New Zealand Foundation website
Student wellbeing strategy
In June, New Zealand's International Student Wellbeing Strategy was launched by Tertiary Education, Skills and Employment Minister Paul Goldsmith during a visit to the Ara Institute of Canterbury.
"International education is our fourth largest export industry and provides jobs for more than 30,000 New Zealanders. It is vital students have a high quality experience while studying in New Zealand," the Minister said.
The strategy is intended to protect and enhance New Zealand's reputation as a safe and welcoming study destination.
International Student Wellbeing Strategy | Minister of Education website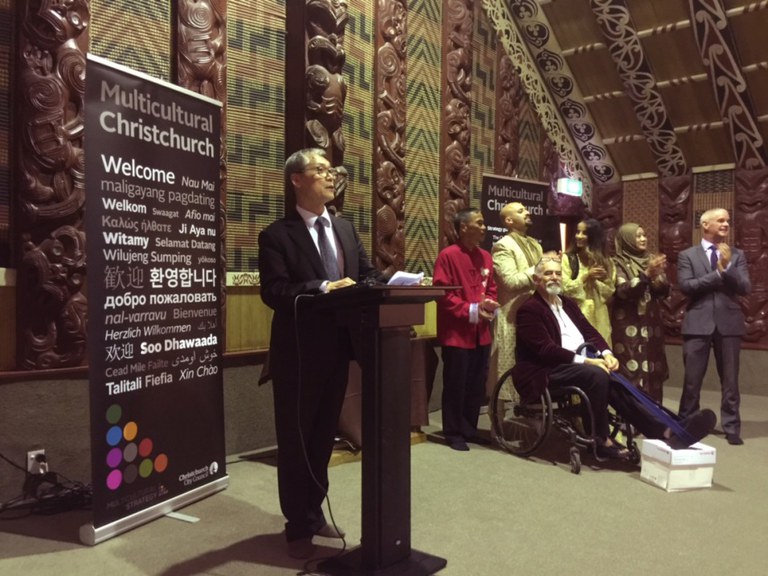 Christchurch Multicultural Strategy
Christchurch City Council has released the Christchurch Multicultural Strategy. Councillor Jimmy Chen (pictured), the Chair of the Council's Multicultural Sub Committee, described the strategy as "a commitment by the City Council to provide a framework and a set of goals and actions to ensure that every single person feels a sense of belonging". Councillor Chen, who was born in Taiwan to parents who originally came from Sichuan in China, moved to Christchurch with his family in 1996.
Report on the Christchurch City Council website
International
Multicultural Australia
In April, Australia released a fresh update to Multicultural Australia: Australia's Multicultural Statement, a document first released in 1996 and last updated in 2011 under Julia Gillard's Labour government.
The statement emphasises security and the importance of learning English as a critical tool in achieving migrant integration.
Australia's shared values, as given in the statement, include mutual respect, inclusion, fairness and compassion; the support of equality of men and women; a commitment to parliamentary democracy; and a responsibility for fulfilling civic duties.
Canada's new Minister of Immigration
Canada's new Minister of Immigration is Ahmed Hussen, a former refugee who fled war-torn Somalia at the age of 16.
BBC coverage of Ahmed Hussen's appointment
Events
English Languages Partners awards
In April, English Language Partners held its inaugural awards ceremony at Museum of New Zealand Te Papa Tongarewa. The awards, which were presented by Sir Anand Satyanand, were in the categories of Distinguished Volunteer Service; Outstanding Learning Achievement; Premier; and Refugee Achievement.
English Language Partners website
Nelson powhiri
In a joint initiative between the Nelson CAB, Immigration NZ's Settlement Unit and the Whakatu Marae, a powhiri was held in April to welcome migrants and newcomers to the Nelson region and to share an Iwi/ Māori perspective. About 75 people turned up for the powhiri on the Whakatū Marae. Among them were people from Bhutan, Germany, France and Britain. Interpreters were on hand for the event.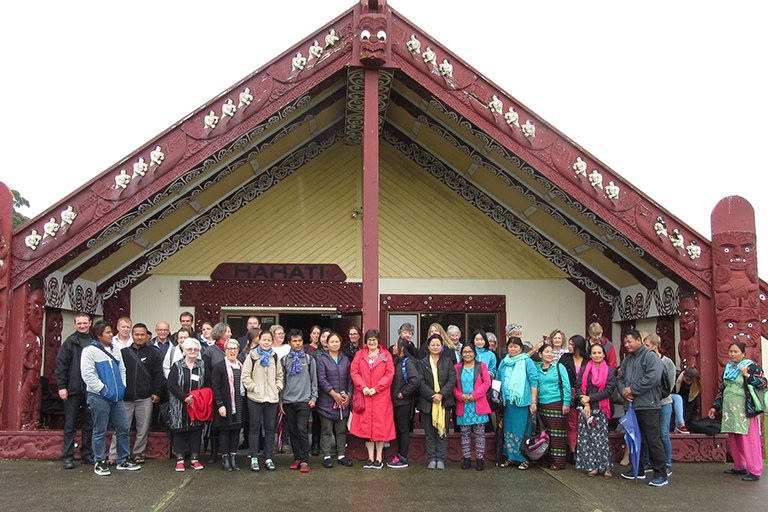 Immigration Gold Showcase
Three Wellington businesses - Beca, NIWA and PikPok - were named as recipients of the Immigration Gold Showcase at a gathering held to mark the announcement of the Wellington Gold Awards finalists in May.
Established in 1999, the Wellington Gold Awards celebrate the excellence and the enterprise of business in the Wellington Region. The Immigration Gold Showcase category is about recognising the extra miles that businesses go to in ensuring that their new migrant employees are welcomed and supported through the challenges of adjusting to Kiwi workplaces, while they settle and build a life in Wellington.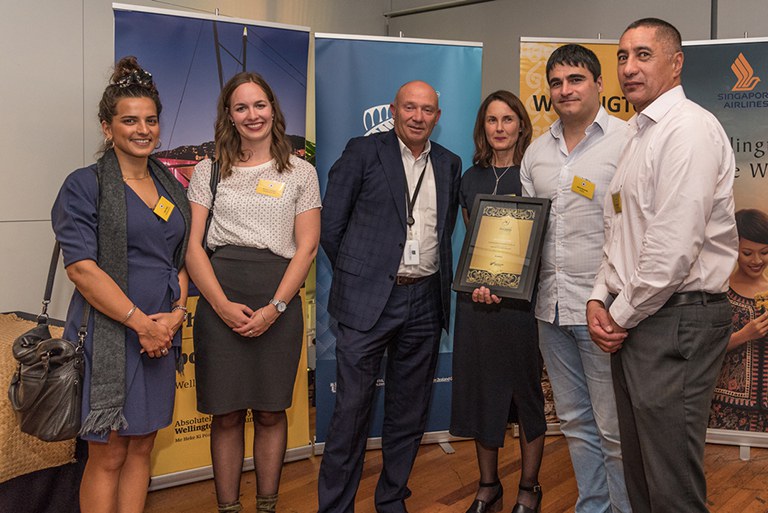 Immigration New Zealand Deputy Chief Executive Nigel Bickle said, "We're delighted to have selected such a good cross-section of winners – a world-renowned scientific research organisation, one of Asia Pacific's largest engineering consultancy services and a leading mobile game developer. All reflect the diversity of Wellington businesses that are supported with migrant skills, enabling business growth. Their commitment to their workplace culture, supporting the settlement needs of new migrants and their families is exemplary."
Ethnic People in Commerce (EPIC NZ) conference
In June, the annual EPIC NZ conference was held at Sky City Convention Centre in Auckland.
Organised by the Office of Ethnic Communities, the conference is intended to strengthen the links between government and New Zealand's ethnically diverse business community. This year's theme was "The New Zealand Business Story – best practice, better business", which provided valuable insights into digital disruption, innovation, and how to succeed in an ever-changing global economy.
Minister for Ethnic Communities, Hon Judith Collins, opened the event by stressing the value of "The New Zealand Story" for businesses to take their products and services to the world; and noting New Zealand's longstanding success in attracting and welcoming migrants. The conference was supported by Minister for Small Business, Hon Jacqui Dean, who also addressed the audience.
Two panel discussions were brought together by Master of Ceremonies Jehan Casinader. The first panel, on The New Zealand Story, discussed ways in which businesses of varying sizes can compete successfully in a growing and changing global market. The second panel saw business leaders share their personal experiences with diversity, and how it has contributed to their companies' success.
The keynote speaker, Pier Smulders from Alibaba Group, spoke about the possibilities of e-commerce and the opportunities available for New Zealand exporters to sell to the huge China market.
As well as the presentation and panel discussions, a number of government agencies were on hand to speak to conference participants. These agencies were organised into four 'networking hubs' that operated throughout the day to provide support and information:
Talk Business – business.govt.nz (MBIE), Digital Journeys (representing MBIE's Digital Economy team), Energy Efficiency and Conservation Authority
Talk Money – Financial Integrity (DIA), Inland Revenue
Talk People – Immigration New Zealand (MBIE), Labour Inspectorate (MBIE), Language Line (OEC), Translation Service (DIA), Statistics New Zealand
Talk Trade – Commerce Commission, New Zealand Customs Service, Intellectual Property Office of New Zealand (MBIE).


"EPIC NZ is an interactive event. It gives participants the opportunity to engage closely with New Zealand business leaders and Government, to explore how diversity and innovation can bring new opportunities." says Wen Powles, Director of the Office of Ethnic Communities.
Sign up to the Office of Ethnic Communities' newsletter to be the first to hear about future EPIC activities
Office of Ethnic Communities updates