Booklet celebrates migrant volunteers
The stories of 30 migrant volunteers from 19 different nations are told in Volunteer connect: Migrants volunteering in the community, a booklet recently launched by Volunteer Wellington at the National Library.
Each of the migrants was the recipient of an award at Wellington's 2016 Volunteer Connect Awards for New Migrants.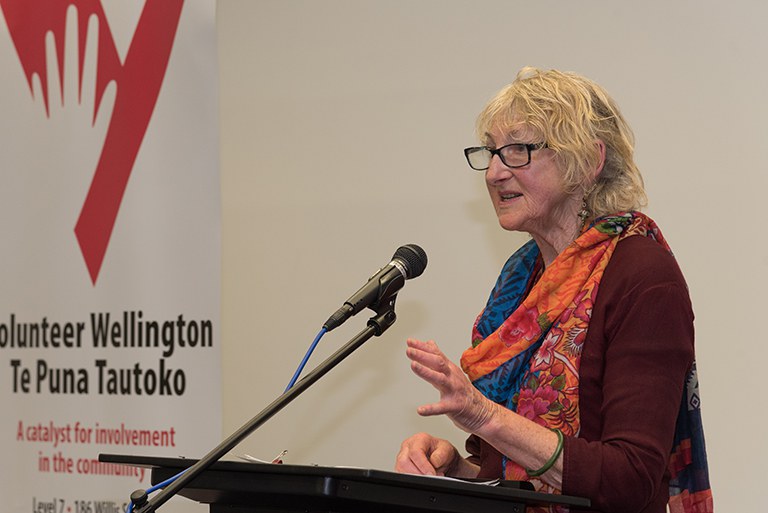 The awards and the booklet originate in a strategy developed over a decade ago, Pauline Harper (pictured), a past Manager Programmes at Volunteer Wellington, told the launch audience.
"Volunteer Wellington was seeing barriers to the employment of migrants within many sectors, including volunteering. So Volunteer Wellington – including Volunteer Hutt and Volunteer Porirua – set up a diversity strategy and a vigorous action plan."
As part of the plan, Volunteer Wellington set out to educate, encourage and provide mentoring, often one-on-one, to the managers and coordinators of volunteer teams.
"Volunteer Wellington had the foresight and vision to recognise that successful settlement comes from people getting to know one another through the richness of cultural exchange and genuine sharing."
As the strategy was implemented, the barriers began to fall away, said Pauline.
Nowadays thousands of people from all over the world pass through Volunteer Wellington's doors, many of them being interviewed for roles by volunteers who are themselves migrants.
Migrants and their families have grown to know that volunteering is "a great way to meet kiwis and to develop new skills and workplace understanding. It also introduces migrants to the amazing support that is available within the community," she said.
For their part, the many organisations that employ migrant volunteers are proud of their diverse teams and their capacity for inclusion, said Pauline.
"Last year when the managers of volunteers were called for nominations for the annual Volunteer Connect Awards for New Migrants, a record number were put forward."
"This active participation by migrants early on in the settling-in journey creates a sense of legacy and means that the rest of their life in Aotearoa New Zealand is going to be more connected and integrated."
Other speakers at the launch were Volunteer Wellington Manager Programmes Aileen Davidson, Office of Ethnic Communities Manager Policy and Research Diana Solomon and Wellington Mayor Justin Lester.
The 2017 Volunteer Connect Awards for New Migrants will take place in July. The awards are now run as a partnership between Volunteer Wellington, Citizens Advice Bureau Wellington and English Language Partners Job Mentoring Service.