Bloom where you are planted
Whangarei's Women's International Newcomers Group Social (WINGS) all began with enterprising North American migrants Gina Eiger and Liane Blair.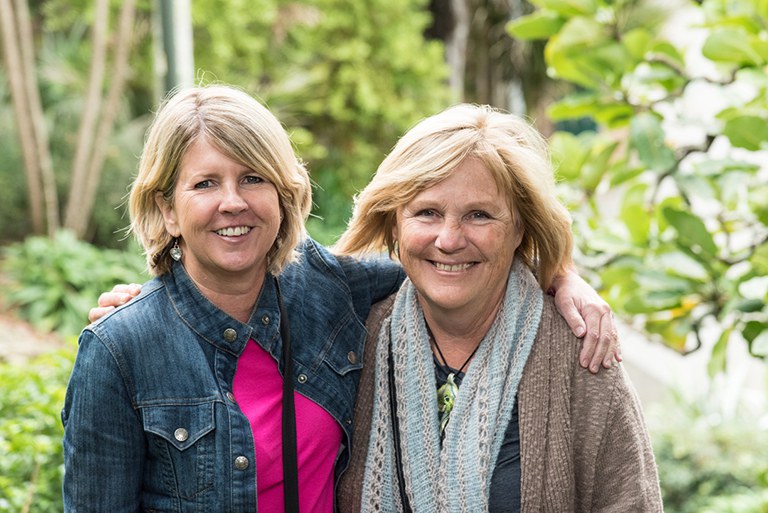 Gina, a self-described serial migrant, knows how difficult moving countries can be.
Her first experience of migration was in the 1960s as a child, when her family migrated from Montana in the United States to Australia.
The move was not a success.
Her second migration was to New Zealand with her two-year-old child and her then husband, a civil engineer.
But after 18 months they returned to the US.
Gina remembers the moment she and her husband decided to do the same thing.
Her husband had decided to take a job with the Auckland City Council. After a long, hot day looking at housing, the couple were sitting on the beach. Gina was pregnant with her second child.
"We looked at one another and said 'Let's move to Montana.' Boom. We were gone. It was that quick."
So when Gina moved to New Zealand for the second time in 2003 she had a plan.
"I am a fibre artist: I weave and I spin and so forth. I joined local groups, and I took that job in an outdoor store.
She was determined, in the phrase that is now the WINGS' motto, to bloom where she was planted.
Liane too had been a migrant before. Her move was within her native Canada, moving by herself from Toronto to Vancouver, where she established a network of friends by becoming an active member of a number of groups.
She took up sailing and organised weekends away. She took note of what made a social organisation successful.
It was in Vancouver that she met her husband-to-be, a Kiwi who was keen to return home.
Soon after the couple arrived in Whangarei in 2003, she set up a part-time business offering bookkeeping services, but after two years she was still missing the sort of social network she had enjoyed in Vancouver.
Liane thought she could help Whangarei's migrant women find their place within the community. She just needed someone like Gina to work alongside her to help her make it happen.
From its first meeting, it seemed as if the Whangarei community had been waiting for something like WINGS. Enthusiasm "just bubbled up out of the ground," says Liane.
After the second meeting, the new organisation decided that each meeting would have a theme.
"We didn't want to be a group of people telling the same stories over and over again."
Three Scottish migrants were asked to put on a Scottish night, which was followed by North American, Dutch and Indian-themed nights.
"They were always so interesting. People would come just to experience a night, but then they would stay," says Gina.
WINGS quickly became the go-to support group for day-to-day advice.
"You know, 'Who's a good doctor? How do you pick a school?' Those sorts of things," explains Liane.
With the assistance of Settlement Support Coordinator Ellen Altshuler, WINGS set itself up as a non-profit organisation.
Liane was employed as a part-time coordinator and Gina would later become a long-serving chairperson.
What activities does WINGS support?
"Well, a group of our members are gathering in a house on Ocean Beach on Saturday night to listen for kiwis calling as they look for mates," says Liane. "And there's a minibus going to Kerikeri on a wine, cheese, chocolate and beer tour."
There is Friday coffee, which begins with a conversationally-paced walk around the Hatea Walkway to the Riverside Cafe.
Friday coffee can attract between anywhere between eight and 28 members, while the monthly meetings can have up to 50 people, including newcomers.
"I can't remember a meeting where we didn't have three or four new people," says Gina.
Restaurant nights are a chance for the members to involve the men in their lives.
A weekly craft day run by WINGS at English Language Partners' premises is a chance for a level of English language conversation English language learners are comfortable with.
In October, WINGS holds its annual Pamper Day Fundraiser, offering women the chance to enjoy five hours of mini pampering treatments, including manicures, pedicures, facials, and massage.
"We try to make a third of our budget self-funded," explains Gina.
As the summer swimming season draws near, there will be beach day and a water safety lecture, including advice about rips, currents that can pull swimmers out to sea.
"Not many people new to New Zealand know about the dangers of rips," says Liane.
WINGS cares for its members. When birthdays come around, WINGS sends out congratulations: "Little things like that are important," says Liane.
If someone is unexpectedly absent, the WINGS committee outreach officer calls to make sure they are okay.
If someone is ill or pregnant, the WINGS members rally around, arranging visits and delivering meals.
Gina remembers visiting a WINGS member who was recovering in hospital after a difficult Caesarean birth.
"I took her some knitting, because I was teaching her how to knit. I don't remember this, but she says that when the nurse asked 'Are you her mother?' I said, 'Well I am today.'"
Gina and Liane's long-term plan was always to step aside. In 2016, the year in which WINGS celebrated its tenth anniversary with a party attended by the mayor, they resigned from their formal roles.
"We need new people with new ideas."
They knew about the risk of founder's syndrome, the name given to organisations that fail when the people who began them leave.
"We wanted WINGS to have a life of its own," says Gina. "So we kind of incrementally let go of the group, and the group has continued on."
The Women's International Newcomers Group Social Inc is a friendship network where traditions and knowledge are exchanged, settlement issues are shared, connections are built, and a sense of community belonging is created.
Who are New Zealand's migrant partners?
Many migrants to New Zealand bring their partners and children with them. These family members face their own challenges. If they are unhappy, there will be social costs, and in the end the move may fail.
"My husband is a chemical engineer whose work has benefitted the dairy industry, and we wouldn't have stayed if I hadn't been happy. We would have gone back," says Gina Eiger.
A 2013 study that profiled migrant partners found:
69 per cent were women
73 per cent were aged between 25 and 44


Six months after gaining permanent residence:
49 per cent had one or more dependent children under the age of five
35 per cent had one or more dependent children between the ages of five and 12
58 per cent spoke English as a main language.


Three years after gaining permanent residence
30 per cent had a bachelor or higher degree
69 per cent of migrant partners were working in paid employment
91 per cent reported feeling settled or very settled.


The study found that migrants with children found it easier to establish social connections, something Gina Eiger confirms.
"Schools and playgroups provide quite a lot of social support. Often it is the older 'trailing spouse', whose children have left home, who finds it more difficult forming meaningful friendships."
Read the Settlement Outcomes Migrant Partners NZ report on the MBIE website