The year of summiting dangerously
How the world is coping with record levels of forced migration
One of the keynote speakers at the 2016 Capturing the Diversity Dividend of Aotearoa/New Zealand (CaDDANZ) conference was Kathleen Newland of the Migration Policy Institute. Ms Newland gave an overview of how forced migration – the coerced movement of a person or persons away from their home or home region – was affecting nations around the globe and of how the international community was responding.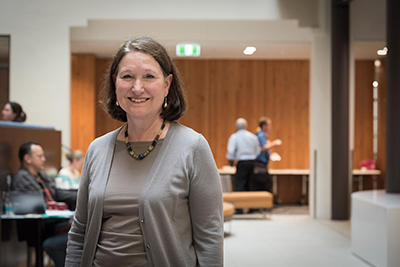 2015 was an exceptional year for the scale and visibility of forced migration Ms Newland told the conference. It was the year in which, for the first time since WWII, the number of displaced people worldwide broke 60 million, reaching 65.3 million and the year in which images of migrants crowded on to small boats making the risky crossing of the Mediterranean etched themselves in the world's consciousness.
Until 2015, migration issues were largely seen as matters to do with national sovereignty of individual nations, she said. After 2015, this was no longer the case. Forced migration was recognised as a phenomenon the international community needed to address multilaterally, and 2016 became a year of United Nations-initiated conferences, meetings and forums addressing this subject.
The meetings included a World Humanitarian Summit convened by the UN, which attracted 9,000 participants from around the world, and a High-Level Plenary Meeting of the UN General Assembly on Addressing Large Movements of Refugees and Migrants.
The reasons why people found themselves forced into migration were many, said Ms Newland. They included armed conflict, instability, economic and political, persecution (as experienced by the Rohingya minority in Myanmar), massive human rights abuses (as experienced in Eritrea, which operates a policy of universal conscription of indefinite duration), and environmental degradation (sometimes caused by climate change), which robs people of their traditional livelihoods.
Most of the major origin states were in situations of conflict, said Ms Newland, with Syria, Afghanistan and Somalia accounting for half of all the world's refugees.
Many of these conflicts have now endured for generations, she said, and the children and grandchildren of the people living in camps outside their countries' borders are looking for whatever refuge they can find by whatever means is available.
As for where they end up, despite the perceptions driven by the flow of migrants into Europe, 86 per cent of forced migrants end up in neighbouring, generally low- and middle-income countries. Turkey, Pakistan and South Africa are at the top of the league of countries that host refugees and asylum seekers.
Among OECD countries, at the end of 2015 Germany had the largest population of refugee and asylum seekers (736,740) followed by the USA (559,370).
The longer a crisis endures, the more widely dispersed forced migrants will become.
According to Kathleen, none of the three traditional approaches to forced migration – repatriation, integration into the country of first asylum, or resettlement to a third country – has offered a viable solution to the phenomenon of forced migration.
With so many protracted conflicts, repatriation of refugees is at lowest level for 32 years; it has been estimated that fewer than 2 per cent of the world's refugees can be accommodated by the available resettlement places; and many countries resist or reject the idea of integration, she said.
What has been the response of the nations who are the recipients of forced migration?
They fit into two categories, said Ms Newland, those to do with rescue, protection and burden sharing, and those to do with border enforcement, denial and deterrence.
Nations are naturally concerned with how forced migration interacts with the rule of law, national sovereignty and national security.
However, according to Kathleen, when it comes to refugees and national security, the concerns expressed in some quarters are overblown.
Refugees who are resettled go through a serious security screening process.
In response to the pressures of forced migration, a number of countries have concentrated on border enforcement, denial and return, and the pressures of forced migration have meant that some, such as Sweden, are rethinking their approach to resettlement.