Waitaki libraries connects with Pacific communities
As the Youth Librarian I am in the perfect position to interact with people from all walks of life. Getting to know their children and supporting them with reading allows me to engage quickly and easily. Youth Librarian Fiona Kerr writes.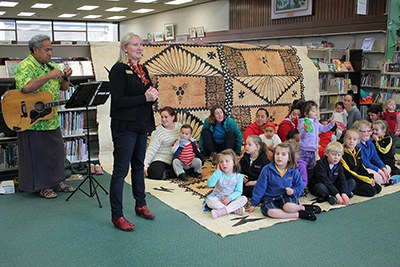 The Waitaki District has a number of Pacific communities. According to the last census, "For Waitaki District as a whole, the most common language spoken apart from English is Tongan, spoken by 1.1 percent of people." (Statistics New Zealand, 2013)
Knowing this, I decided to approach the local Tongan community to see if they would like to perform at the library during Tongan Language Week. I sent a general email to any contacts I could think of and as Oamaru people are very good at connecting others, I soon had some good people to follow up with. In 2014, we hosted five schools and the Friendly Island Playcentre. Some of the performances were very short as some groups were keen to be involved but did not have much prepared. However, it was worth the effort to demonstrate the library's support of the Tongan community. After this week, the library team were invited along to the annual Tonga Day celebrations. Jean Rivett, the Community Services Librarian and Deputy Manager and I were treated to a wonderful day.
In 2015, we hosted four schools and two early childhood centres as well as the Waitaki Polynesian Dance Group. This year, the groups were extremely well prepared. Some gave self-introductions, others gave readings from books borrowed from the library written in Tongan and others gave full performances. The children wore amazing costumes made by parents, including one made of plants. The most interactive session was the Friendly Island Playcentre one held during the regular storytime sessions. Seeing children from diverse cultures interacting so naturally with each other was very special.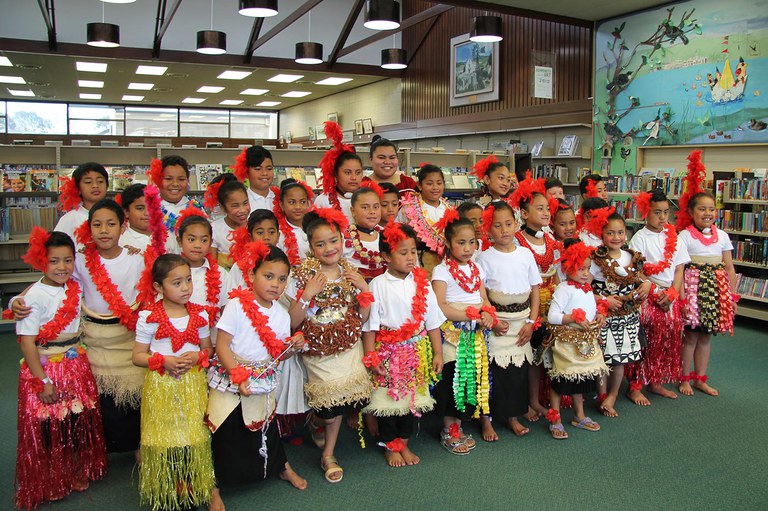 For me, the most powerful outcome of hosting these performances is giving the proud parents an opportunity to support their children in sharing aspects of their culture with others. We had parents joining in with their children in front of the audience as well as on the sidelines. I was approached by a number of parents to take photos of them with their children as they saw me taking photos for our Facebook page. The reach of these photos and videos via our social media channels was incredible.
Around this time, the Oamaru Pacific Charitable Trust was established and has led to a simpler way to grow contacts with members of the Tongan, Samoan, Fijian and Tuvaluan communities here. As a result, I was approached to host performances at the library for Fiji Language Week and Tuvalu Language Week. It was very special to see the oldest member of the Tuvaluan community in Oamaru sitting with the children and making a head decoration for me during the performance.
I think it has been very important for us as a community to acknowledge that there are distinct nationalities within Pacific communities. I now know that one of our regular families is actually from Tuvalu: Silou, the mother is very proud of her culture and encourages her three boys to be proud too. Presenting aspects from their culture really gives children an opportunity to highlight who they are.
By showing an interest in the culture and language of Pasifika children in Oamaru, the library and librarians are now seen as a significant group that can support Pacific communities, particularly with English language through reading but also in supplying books in their own languages. The library has also been able to grow its relationships by attending Tonga Day, Tuvalu Independence Day, the launch of the Oamaru Pacific Charitable Trust and Pasifika nights. I also attend the 'Pasifika Success Talanoa Project' education meetings to demonstrate the commitment the library team has to supporting Pasifika children in succeeding at school.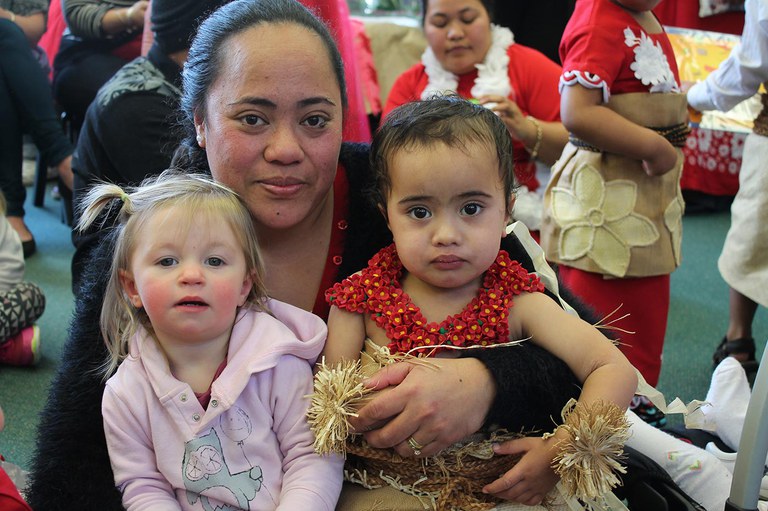 Finally I would like to say that engaging with Pasifika children has supported the library team in getting to know the adults who come to the library to use the computers or books. Interactions have grown from simple transactions to friendly conversations. Staff have mentioned that when they are out in town in Oamaru they often exchange smiles and 'hellos' with Pasifika people they have met at the library. This shows that communities grow closer when opportunities to get to know each other exist.
This article abridged here first ran in the August 2016 issue of Library Life.