Wellington international student ambassador programme launched
When it comes to international student enrolments, Auckland is by far New Zealand's most popular destination, with 54,603 fee-paying international students in 2016.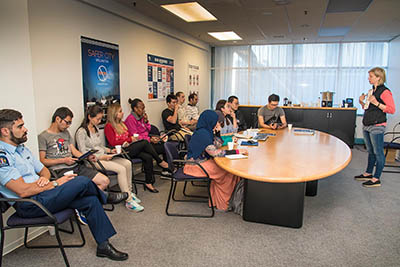 In Wellington, by comparison, the number of fee-paying international students stood at 5,805.
Wellington Regional Economic Development Agency (WREDA) chief executive Chris Whelan has said he would like to see the number of international students in Wellington double to about 12,000, adding $190 million to the local economy.
As a study destination, New Zealand has many merits. One of these is that by international standards New Zealand is a safe country with low levels of crime, in part thanks to the good work of the New Zealand Police.
The Wellington International Student Ambassador programme is part of that work.
The programme was launched in September 2016 as a collaboration between the New Zealand Police and five Wellington education providers: Queen Margaret College, Whitireia New Zealand, WelTec, the Wellington campus of Massey University, and Victoria University of Wellington.
Wellington District Ethnic Liaison Coordinator Phil Pithyou, who oversees the programme, says between 20 and 30 international students will eventually be trained by the police to be ambassadors to their student communities, helping to prevent crime and victimisation.
The transitional years from adolescence to young adulthood can be a difficult and vulnerable time, says Phil. This is the period when people establish relationships, experiment with alcohol, begin driving and exercise their independence.
Most young people experience one or more of these challenges, but international students have other complicating factors. If they do not feel at home in the local culture or with speaking English, they may suffer feelings of isolation or depression. They may feel stressed by the burden of parental expectations. Freed from the guidance and constraints of having family close by, it is easier for them to make mistakes.
As a group, they are more vulnerable to falling victim to crimes such as burglary or fraud, and the barriers of culture and language make them harder to reach and it is less likely they will know where to go for help.
The international student ambassadors are part of the solution, getting the right messages out to their communities using the right approach.
"If you don't know your audience, it is very easy to get things wrong," says Phil.
The ambassadors will also relay information back to the police.
"We give them information we think is important, but they also tell us what they think is important."
The initial training session for the new ambassadors introduced them to the New Zealand Police and how they operate and covered off matters such as the elements that lead to a crime being committed, avoiding being a victim, and how to report a crime.
"In some parts of the world, people tend to report crimes only if they are directly affected," says Phil "In the police, one of our mantras is 'see something, do something'. We teach that reporting an incident, even if you are not directly involved, is a good way to prevent things escalating and of letting us know that someone out there may need help."
Regular monthly meetings are held with the student ambassadors during the academic year, and they are offered useful training, such as first aid.
For the students, the experience of being an ambassador will help them develop strong leadership skills and it looks good on a CV, says Phil.
"This programme offers them the opportunity to make a real contribution to the community, and that sense of making a contribution can be very personally fulfilling." says Phil.
The Wellington International Student Ambassador programme is modelled on Auckland's highly successful International Students Ambassadors Group, which was set up in 2014.