Professional speaking for migrants' graduates excel
In December 2016, students from eight countries successfully completed a Professional Speaking for Migrants course and a Speech New Zealand examination in Rotorua.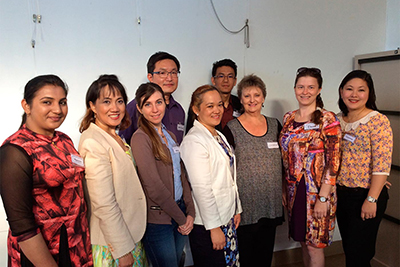 During the 12-week course they attended classes for three hours per week at the Rotorua Arts Village. They learned how to use public speaking to extend their career prospects, how to introduce a guest speaker and deliver a eulogy at a funeral, and how to participate effectively in a New Zealand-style job interview.
The course was offered under the umbrella of the Rotorua Multicultural Council and funded by the Mokoia Community Association. Speech New Zealand examiner, Mrs Claire Marsh, says: "The students excelled, and it was a magical, wonderful experience to examine them. Examining these students was an absolute highlight for me."
This is the sixth time that the course has been offered in Rotorua. Dr Margriet Theron, the Vice-President of the Rotorua Multicultural Council and a Trustee of Speech NZ, developed the course and has offered workshops on how to run such courses in cities around New Zealand. The course has now been offered in six centres, from Whangarei to Invercargill.
"The Speech New Zealand syllabus in Professional Speaking can be of great value to migrants," says Dr Theron. "It enables people who don't have English as a first language to explain the skills that they can bring to New Zealand workplaces and it gives them the confidence to participate in our style of job interviewing."
"It is a wonderful privilege for me to work with these highly motivated and talented students, to help them to unlock their potential."
The examination presentations by the students covered a wide range of topics, all closely related to their training and careers. For each talk they identified an imaginary audience and then set out to meet that audience's information needs. Examples were:
a career as an agricultural engineer to an audience of Year 10 students and their parents at Rotorua Girls' High School
the importance of conversational communication skills to a class of trades students at Toi Ohomai Institute of Technology
Marketing Magic Moments, a tourism photography service to tourism attraction operators in Rotorua
tuberculosis awareness to a group of older Rotorua residents at a meeting at Parksyde
evaluating an immature forest to an audience of prospective overseas investors in forestry in New Zealand
how to identify dyslexia in Year 1 and Year 2 children to an audience of parents at Otonga School.
The aspect of the examination which the students found the most challenging was the role plays. These varied between dealing with a difficult customer in a gift shop, to developing a programme for a holiday camp for teenage boys, to handling a guest at a campground who had been bitten by a dog, to interviewing applicants for a position as a science teacher at a high school.
The high level of motivation, dedication and talent among the students became clear when all 11 of them passed the examination and nine of them gained the Certificate in Professional Speaking with Distinction.