Guide available for migrants working in the hospitality sector
A guide for migrants working in the hospitality sector has been published by Immigration New Zealand. The guide delivers information about employment rights, the ins and outs of the New Zealand workplace, and workplace communication.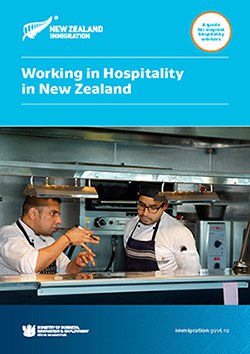 It is available English, Korean and simplified Chinese.
"As New Zealanders we have a unique 'Kiwi' way of communicating at work," says Judi Altinkaya, National Manager Settlement. "The guide explains how workplaces tend to be more informal in New Zealand than in many overseas countries. This informal style flows over into how we communicate,"
The guide explains common expressions in the New Zealand hospitality sector, such as cover (customer or guest) and prep (short for food 'preparation').
"Working in hospitality in New Zealand (a guide for migrant hospitality workers)" joins a line-up of guides to working in the dairy, aged-care and construction sectors.
Guides for employers who are employing migrants have also been published for each of the four sectors.
"It is important that both employers and migrants understand New Zealand employment law and that they know that all employees have the same rights whether they are New Zealand- or overseas-born. Everyone is entitled to the same minimum wage, the same leave, the same working conditions," says Judi.
The guide has advice about how to move to New Zealand and settling in successfully.
"The better informed people are, the smoother their transition will be into New Zealand work and life. Good information leads to happier migrants and more efficient workplaces," says Judi.
The guide provides contact details for settlement services, as well as unions, that migrant workers can turn to if employment issues arise.