Keeping Auckland newcomers watersafe
No matter where you live in New Zealand's largest city, you are never more than a few kilometres from the sea. But if you do not know how to conduct yourself in and around water, this paradise for fishers, surfers, sailors and swimmers has its perils. WaterSafe Auckland is working to ensure every Aucklander is watersafe.
This is particularly so for new New Zealanders, who often have little experience around water or much knowledge of the dangers.
Over the course of the summer months, WaterSafe Auckland has been working with partner organisations and the community to help people who are new to Auckland learn the fundamentals of water safety.
Auckland coast experience – a guided walking tour of Kitekite track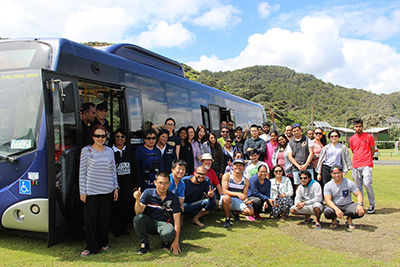 Beginning close by the seaside community of Piha and leading to Kitekite Falls, Kitekite Track runs through lush native forest of the Waitakere Ranges. In November, more than 70 people, most of them originally from China, took part in a ranger-led guided walk along the Kitekite track. The walk was jointly organized by WaterSafe Auckland, Auckland Council Park Rangers, Piha Surf Life Saving Club and NZ Police Asian Liaison.
The walk began with a barbeque and included a visit to Piha Surf Life Saving Club, where a lifeguard talked about the rescue equipment and how to stay safe. A number of translators were on hand.
Boating experience
In December, WaterSafe Auckland, Harbour Sport and Coastguard Northern Region organized a fishing trip on the Hauraki Gulf, complete with water and boating safety advice. During the voyage, the Coastguard Northern Region vessel stopped by for an educational visit. Nineteen Chinese newcomers took part in the trip.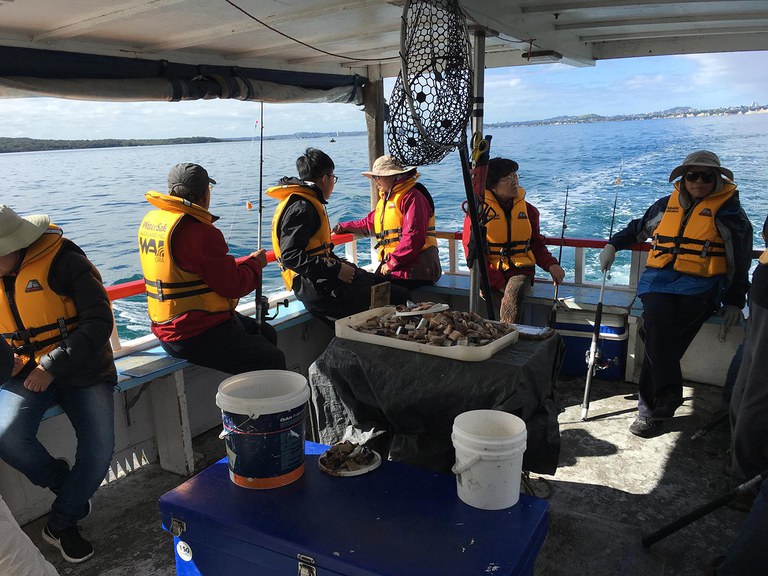 Land-based fishing workshops
WaterSafe Auckland has held three fishing workshops, averaging 15 participants each, most of them Chinese newcomers. The workshops were held at Army Bay, Kawakawa Bay and Flat Rock, Muriwai.
Crab fishing education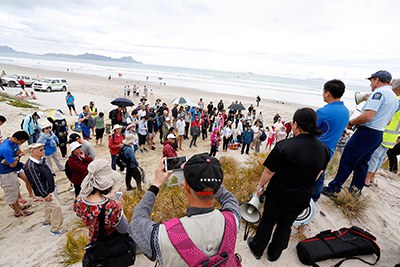 In December, in conjunction with the New Zealand Police and Surf Life Saving Northern Region, WaterSafe Auckland held another in their series of crab fishing safety seminars at Westhaven Marina. Ninety-six people attended, and another 140 attended a safety day held at at Uretiti Beach. The workshops and activities were very hands-on, says Barbara Venville of WaterSafe Auckland, enlisting experts and translators.


Rock fishing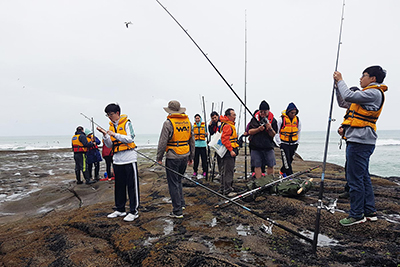 Rock fishing is a popular - and risky - recreational activity. Every summer, the number of people fishing off the rocks along Auckland's wild, west coast surges. Many are Asian: research conducted in 2016 found that 91 percent of rock fishers were Asian men, mainly Chinese.
The Rock Fishing Safety Project, jointly run by WaterSafe Auckland, Surf Life Saving Northern Region and Auckland Council, is a long-running campaign that has set out to raise awareness associated with rock fishing and how to stay safe.
The campaign includes practical workshops, public service notices, and visits by rock fishing safety advisors to popular fishing spots to speak personally with fishers. A key focus of the campaign, says Barbara Venville, is getting the message out to the wives, mothers, sisters and daughters, who may be able to influence the fishers' behaviour. The campaign's emphasis on the importance of wearing lifejackets may be working: the self-reported use of lifejackets has increased by 30 per cent.