Professional speaking for migrants
Applying for a job is always a challenge, and if English is not your first language and you are without New Zealand work experience, it is more challenging still. Here is where the Professional Speaking for Migrants course developed by Speech New Zealand can help.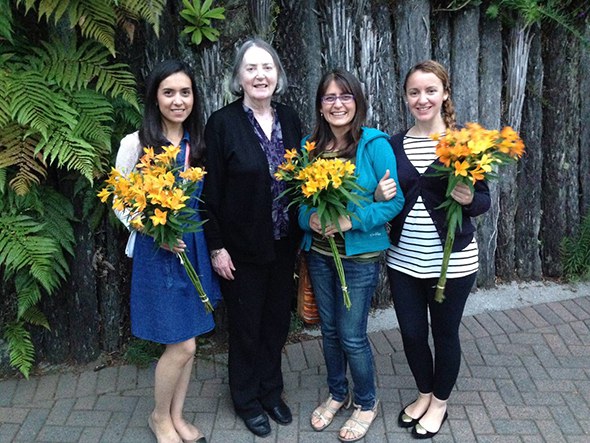 Dr Margriet Theron celebrates examination results with three South American students
Dr Margriet Theron of Rotorua has been an economist, a researcher, a policy leader, and an education management specialist. But the most rewarding job she has had, she says, is teaching Professional Speaking for Migrants. It changes lives. "To see a student go from pumping petrol to being a clinical prosthetist; from doing voluntary work to owning a successful business; from working at the minimum wage to studying to become an early childhood educator, is wonderfully satisfying."
A migrant herself (she arrived in New Zealand in 1978 with Afrikaans as her first language), Dr Theron developed Professional Speaking for Migrants by working within the course requirements for Speech New Zealand's Professional Speaking qualification.
As part of the Professional Speaking for Migrants course, students role-play job interviews, deliver seven-minute presentations about their work skills and experience, and introduce a guest speaker. The course teaches them how to talk with confidence and clarity about their careers, work experience, skills and community involvement. First run in Rotorua in 2011, the 10-week course has been run every year since.
In 2014, the Rotorua students came from the Philippines, Argentina, El Salvador, Germany, Sri Lanka, Korea, India, Fiji, China, Brazil, Iran, Thailand, Peru and Japan. The course has also been fortunate in always having had Maori students -- for even though it is designed around the needs of migrants, the course is open to all. "When I teach students the pronunciation of Maori place names, and the value of whanau support during job interviews, the Maori students are there to say 'Ae'," says Dr Theron. "They also help me to explain the great impact that Maori cultural values have on New Zealand workplaces."
The students are given every opportunity to practice their new skills. In 2014, when Speech New Zealand held its 50th Anniversary celebration at Rotorua's Prince's Gate Hotel, the students were invited to attend on the condition that they make small talk with the other guests.
Around 12 students undertake the course each year, which finishes with an examination conducted by an accredited Speech New Zealand examiner. Friends, family and supporters are invited to the examination, and they are encouraged to question the candidates.
"When the examiner comes, everyone is on a high and there are celebrations afterwards," says Dr Theron. "Facebook buzzes with their joy in their newfound confidence and skills." Success in the exam leads to either a Certificate in Professional Speaking or an Advanced Certificate in Professional Speaking. In 2014, seven of the 12 candidates received their qualifications with Distinction.
Professional Speaking for Migrants - Rotorua
Professional Speaking for Migrants is run over 10 weeks, by the Rotorua Multicultural Council, with classes held from 6 to 9 pm on Tuesday evenings. Thanks to Tertiary Education Commission funding from the Mokoia Community Association, the course is free to participants. However, there is a fee for the Speech New Zealand examination, which is an integral part of the course. The Certificate in Professional Speaking and the Advanced Certificate in Professional speaking are well-recognised and a good addition to a CV.
For more informtion email Margriet Theron.
The following organisations either offer or are planning to offer the Professional Speaking for Migrants Course.
WHANGAREI
Multicultural Whangarei
AUCKLAND
Auckland Regional Migrant Services
ROTORUA
Rotorua Multicultural Council
TARANAKI
English Language Partners Taranaki
WELLINGTON
Upper Hutt Multicultural Council
NELSON
Nelson Multicultural Council
INVERCARGILL
Southland Multicultural Council in partnership with English Language Partners Southland.
English language partners Southland
Your local English Language Partners centre or Multicultural Council may be able to arrange a Professional Speaking for Migrants Course if there is enough interest. You can find the contact details for both organisations online.
English Language Partners Our Centres