The case for volunteering
Everything began with the Pink Ladies, says Trish Lee. It was back in 1973 that Ella McLeod, a nursing tutor started a women's volunteer group at Wellington hospital.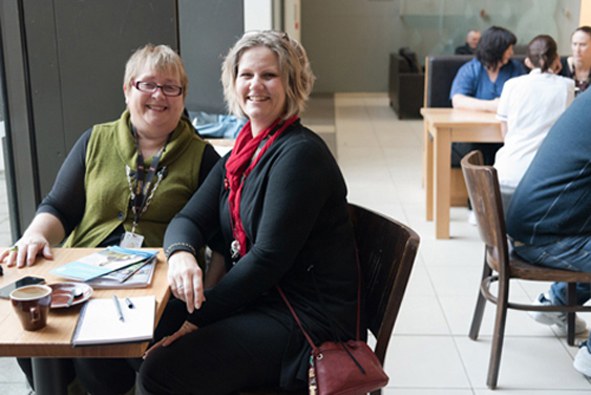 Hospital Volunteer Service Manager Trish Lee and Donor Relations Co-ordinator Samantha Munro in Wellington Hospital's Wishbone Café.
The original Pink Ladies arranged flowers, shopped for patients, led outings and made cups of tea. "They even had a little salon where they set hair," says Trish sounding nostalgic for simpler times.
Trish, the Manager Hospital Volunteer Service, runs the Pink Ladies' descendant, a 550-member strong workforce of hospital volunteers. Volunteers give recitals on the grand piano in the hospital foyer. They serve customers in the gift shop, help with rehabilitation, guide visitors through the hospital, assist in the emergency department, and knit, sew and quilt garments for the 4000 or so children born every year in the Kapiti and Wellington regions. All in all, Wellington hospital and its staff and patients are the beneficiaries of tens of thousands of volunteer hours.
Many of the volunteers are new migrants – and for good reason.
If you are new to a country, volunteering is one of the best ways to learn the local ways and customs, says Samantha Munro.
She speaks from personal experience. Samantha, now a donor relations officer with the Wellington Hospitals Foundation arrived in Wellington with her husband and their daughter in 2008.
"I was here for a month and bit," she says, "and I thought 'I have to have something to do. There's only so much cleaning and shopping you can do.'"
She's not sure what led her to Wellington Hospital – perhaps she checked the Volunteer Wellington website – but she called Trish Lee, and her life has not been the same since.
Samantha first worked as a guide, but within a few months a new opportunity arose. Wellington Hospital was about to transition from its old building to newly built premises and someone was needed to show the staff around the new layout.
It was paid short-term employment, and Trish shoulder-tapped Samantha.
"I went home and told my husband I think I have got a job," says Samantha. "I can see the Dominion Post headline now," said her husband. "Staff still missing, Scottish woman loses group."
But even if the volunteer experience had not led to employment, it would still have been the best thing to do, says Samantha. "I found it so helpful to have somewhere to go to, something to do where you could contribute, people you could look forward to seeing."
Perhaps this is the reason why, over the years, a number of the hospital's volunteers have come from Peter Jackson's workforce: the often highly-skilled partners of people brought in on two-or-three year stints to work on international film projects.
Volunteering helped Samantha attune her ear to the Kiwi accent and it gave her a better understanding of everyday life: the employment structure, dealing with the bank, taxation. Even with something simple like knowing the best place to go to buy a toaster – that a certain shopping chain has a 'sale' every other week – Samantha says it helped to know what the locals did.
And if English-speaking Samantha who came to New Zealand as part of a tightly-knit family found volunteering made a difference, then the impact of volunteering can be even more dramatic for others.
Among the hospital's volunteers have been a number of Indian brides who have married Kiwi men. "When they first come in they are so shy and quiet," says Trish. "They don't have any family here, they know no-one."
But place them with local volunteers – the hospital's 'buddy' system pairs new and experienced volunteers – whose natural protective instincts kick in, and the change is dramatic.
"Within three or four months you see such a difference. They are so much more confident and outgoing – often confident enough to go out and get a job."
Wellington Hospital places many volunteers, some of them referred by Volunteer Wellington. If people interview well and pass the normal background checks, the hospital is usually pleased to welcome them as volunteers, though a certain standard of English is required.
"Patients come in under stress, and the volunteers need to be able to respond," explains Trish, but a refusal is not necessarily the end.
"I would normally say, 'Well you sound like a great person, but your English is not quite up to it. How about going to English class for a term or two, and we'll see what we can do.'"
As for Samantha, volunteering led her via an informal network to a series of jobs within Wellington hospital, none of which she would otherwise have applied for.
"People have faith in you and say, 'No, that's okay, we can give you training.'"
She has no desire to move elsewhere.
"I love my job and I love the people I work with."