When I'm 64
Ellie Baker, the author of 'Migrant Emotions' and a migrant herself, reports from the Addressing the Challenges of Migrant Elder Care Workshop held in Dunedin in July.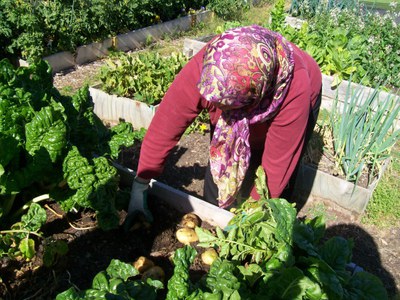 As the Beatles song goes, "Will you still need me, will you still feed me, when I'm 64?"
I am less than a decade from this pre-retirement milestone. I hope that for at least another decade after 64 I will be independent and continue living a great life in New Zealand as a migrant.
Migrants face unanticipated challenges as age-related issues start affecting them. I have heard of elderly migrants just wanting to go home and of migrants reverting to speaking only their first language.
In July, a workshop was hosted by Global Migrations and CARE (Collaboration of Ageing Research Excellence) for people interested and involved in the care of elderly migrants. Five speakers and an afternoon workshop covered issues and possible solutions for elderly migrants. Language, isolation, and cultural differences were some of the issues discussed.
Elderly migrants may not be fully aware of the health care services available to them. If a migrant's first language is not the same as that of their host country, their understanding of the available options available can be limited. Interpreters are essential here.
Many migrants may ask for someone familiar to them, such as a family member or friend to interpret. However, as Interpreting New Zealand puts it, "If you think it is expensive to hire a professional, wait until you hire an amateur."
The use of a professional interpreter brings an assurance of skill, privacy, confidentiality, maturity and impartiality.
Doctors' appointments can be overwhelming enough, even when both doctor and patient speak the same first language. Relying on a child or teenager to interpret exposes the child to information that may not be appropriate
How does a ten-year-old translate to their parent or grandparent that they are terminally ill? A health professional can request an interpreter. Use an interpreter whenever you can.
Beryl Lee, a retired teacher and previously the President of Dunedin Multi Ethnic Council, had noticed that some of her elderly migrant neighbours weren't getting out much. Ten years ago, Beryl set up a community garden at Musselburgh School.
Looking for volunteers, she asked some of them if they could help out. The community garden became a place where elderly migrants could mix with others and develop a sense of belonging. The garden thrived.
While Beryl's grandson was visiting her, she watched him read his reader to one of the elderly migrant gardeners in one of the breaks. This gardener had limited English.
Beryl was delighted to witness the gardener reading the same reader to her grandson. The migrant and Beryl's grandson were learning from another.
The project has helped elderly migrants become more socially connected, improve their English, have fun, and learn how to garden in Dunedin's conditions.
Cultural differences for the elderly may increase as they age. When talking with any elderly person, you often find that their memories of their formative years are far stronger than the memories of the past 50 years. They yearn for the familiar, for the old times. It can be harder for migrants to maintain their acceptance of cultural differences, especially with food, routines and rituals.
Places that care for elderly migrants need to ensure that there is a diversity of food available, and that they are able to enjoy some of their cultural traditions.
In the Chinese culture, the duty of filial piety – of respect, obedience, and care for one's parents and elderly family members – is so strong that the Chinese Government has suggested that children could be sued for failing to look after their ageing parents.
When Dr Liangni Sally Liu interviewed Chinese Migrant families about elderly care, the duty of filial piety featured strongly:
"I want to have a multi-generational family in New Zealand. For me that is a proper home."
"I wish I could be with my daughter in New Zealand when I get older. I am retired now. I will be the happiest person in the world if it can happen. But it is unlikely that she will come back to China. She has her own family and career in New Zealand."
"If my parents want me to go back to China to take care of them, I will give up anything I have achieved here in New Zealand and go back to China for sure."


Feelings of isolation may increase as migrants age. Their language skills may deteriorate; they may need an interpreter rather than a translator, as reading may be challenging
The elderly may miss the things that were dear to them when they were growing up and find themselves less tolerant of the local culture.
In New Zealand, there has been a bulge in working-age migrants. As this bulge ages, there will be a greater need for more interpreters, more programs to counteract isolation, and for diversity to be increasingly embraced in aged care homes. Will New Zealand be ready?
When I am 64 or older, I hope I will still feel needed and that I will be looked after in the way I would like to be.
Mostly I hope that I will be recognised as a person who still has a lot to offer and who is still worth talking to. I hope that I will continue to enjoy my life as a migrant in New Zealand.