Whanganui celebrates cultural diversity
There was much singing and dancing in the rain at Whanganui's annual Festival of Cultures on Saturday, 27 October 2018.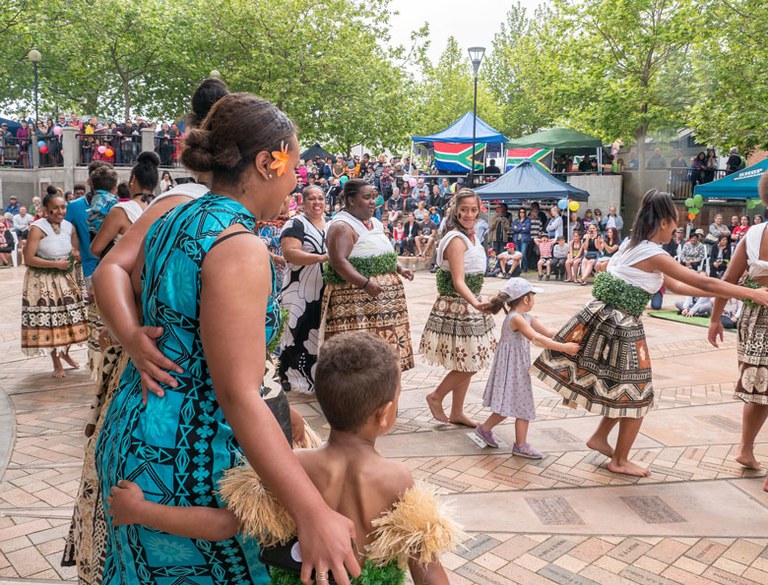 Despite the weather, performers made a big splash with the large crowd, and no one went home with dampened spirits.
Now in its eighth year, the festival has gone from strength to strength as it showcases cultures from around the world through performances and cuisine.
After a blessing from kaumatua John Maihi and a mayoral welcome, Te Taikura o te Awa Tupua opened the day with waiata and kapa haka, followed by Indian, Chinese, Fijian, Samoan, Filipino and Latin American performances. Ohakune reggae band Common Unity and the Sambo ao Vento drummers also played to a great response.
Festival-goers enjoyed delicious food from 23 different food stalls including South African, European, Middle Eastern, Asian, South American and Pacific cuisine. This year a waste minimisation initiative was trialled, where food vendors were provided with compostable food packaging. The trial was hugely successful and well supported by the community. More than 85 per cent of waste suitable for worm composting – an additional 7 per cent was recyclable, which left only 7 per cent of waste (one wheelie bin) sent to landfill.
Welcoming Communities Co-ordinator Katy Newton says the annual festival celebrates Whanganui's cultural diversity and is organised by the community, for the community. "It is a wonderful opportunity for our local cultural groups to come together and share their cultures as we become an increasingly diverse community."
To support the festival, Whanganui District Council provided free parking in the CBD, and Horizons Regional Council put on free buses throughout the city so as many people as possible could attend.
For more information, email: