Rural resurgence
Responding to the needs of the dairy industry, Culverden and the Amuri Basin in North Canterbury are embracing migrants and a multicultural future.
It's 10am on a spring day in Culverden. On either side of the main road, farm utes, trucks, milk tankers and 4x4s are parked bumper to bumper with cars and camper vans. Inside the town's small businesses, drivers and passengers sip flat whites, order their takeaways, stock up on groceries or buy agricultural supplies.
Up the road, past the school playing fields and the golf course, travellers are taking selfies by the cherry trees in extravagant blossom.
While many areas in rural New Zealand are coming to terms with the idea of supporting smaller, older populations, Culverden and the surrounding district of Amuri are bucking the trend.
Statistics New Zealand has released projections, that Amuri is expected to increase its population from 1720, at the time of the 2013 Census, to 2540 in 2043.
The median age in Amuri is 34.9 years; in the wider Hurunui District, of which Amuri is a part, it is 43.7.
What makes Amuri different? One of the central reasons is a dairy industry made possible by the availability of year-round water.
Two rivers, the Hurunui and the Waiau, weave their way across the Amuri Basin, supplying water for extensive irrigation.
Introduced in the late 1980s, irrigation has transformed the gravel plains of the basin into rich pasture land.
And as the land has become more productive, the sheep and cattle of traditional back-country dryland Canterbury farming have been displaced by dairy cows – more than 66,000 them – and milking sheds.
There are now more than 80 dairy farms in the Amuri Basin, some owner-operated, some under corporate ownership.
When the milk payout is good, dairying is very profitable. The limiting factor is the availability of skilled and willing workers.
A mid-level dairy farm position, such as herd manager, offers rewarding work with good career prospects. The drawbacks: the hours are unsociable, it can be physically demanding, and the locations are often isolated.
Despite the industry's best efforts, it has been difficult to recruit locals.
To fill labour shortages, the industry has reached out to skilled migrants from places like Fiji, South America and, in recent years, the Philippines.
These are the people who rise in the cold hours of the early morning to milk the cows, who wash out the milk vats, who check on the cows who are about to calve, and who feed and rear the calves when they do.
They see working in the dairy industry as a way to earn good money, support their family members, and gain new skills.
Some – those who meet the criteria – may apply for residence.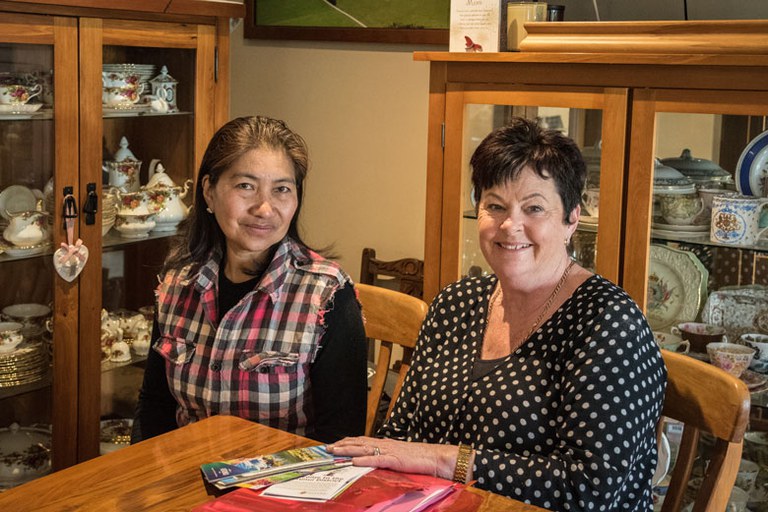 Sharron and Alan Davie-Martin, own Beechbank Dairies, a 148-hectare farm eight kilometres from Culverden.
They came to the Amuri Basin in 2005, selling their farm on the edge of Warkworth, 45 minutes north of Auckland, which was becoming "townie" territory.
At the time, Sharron says, they paid what was thought of as top dollar for the Amuri property. Now, it is worth much more.
Sharron and Alan employ two migrant families: Henning and Susanne Schritt, who emigrated from Germany in the 1980s, and Filipinos Stella and Danny Sales.
In the Philippines, Stella Sales was a qualified vet working as a technical assistant up-breeding the nation's buffalo herd.
It was a respected position, but it came with the drawback of a two-hour bus commute to and from work.
Stella accepted a job offer as a dairy herd manager in New Zealand with the ambition of achieving a better future for herself and her family.
However, when she arrived in 2009, having taken out a loan to pay for her travel and reluctantly leaving behind her husband and children, all was not as promised.
Working conditions were poor, and when milk payouts dipped she was made redundant.
Her future in New Zealand looked doubtful.
"I should have been crying," she remembers.
She was rescued by a fellow immigrant, British-born woman and equity manager Alex Thompson and by Sharron and Alan, who were appalled at the way she had been treated.
"We all supported her until the start of the milking season, and then Alan and I employed her," says Sharron.
"We had someone leaving, and she slotted in. By August we knew how good she was."
With Sharron's support, Stella was later joined by her husband Danny and their children Stella Rae, Angelo and Neil.
Danny, who has tertiary qualifications in agriculture and food technology, soon proved his worth, says Sharron.
"Alan asked him if he could drive a tractor, and he said 'Yes Alan, yes Alan.' So Alan said, 'Take that big John Deere [tractor] into that little paddock and put all the sticks into a pile.'
"He came back an hour later, and it was perfect. Alan said, 'We are on to a winner.'"
Sharron cannot remember Stella or Danny ever being late for work, and Danny has steadily advanced into farm management.
An array of industry trophies atop Sharron's china cabinet – among them a Dairy Business of the Year award – attests to how successful Beechbank Dairies has been.
Alan is very good at turning grass into milk, she says, while she brings an approach to human resource management that judging panels like.
But not all of the trophies Beechbank has won are on display here. Some are held by the Sales household.
"When entries are invited for awards that have anything to do with milk production – like the Fonterra awards – we say, 'Please call Danny up not us.'
"Those trophies are his," says Sharron.
"We have to look after our migrants. They are so valuable to us. Without them we would be in trouble.
"Alan and I certainly wouldn't be considering making moves into retirement if we didn't have Danny and Stella."