How new migrants experience New Zealand
The findings of the 2018 National Migrant Consultations are now available.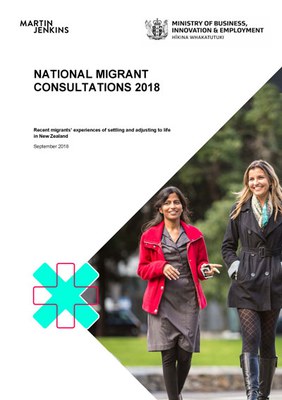 The consultations are a key part of implementing the New Zealand Migrant Settlement and Integration Strategy.
Led by Immigration New Zealand and conducted by independent consultancy MartinJenkins (the report authors), this year's consultations were conducted face-to-face and online.
The face-to-face consultations, which included workshops and focus groups, were held in 12 locations, spanning the country from Auckland in the north to Invercargill in the south. The venues ranged from community centres, to a music studio, to a library's newspaper reading room.
By the close of the consultations, the team had met with 286 migrants from 48 different countries of origin.
The online consultation took the form of a widely promoted questionnaire, attracting 3,347 respondents.
Four broad sets of questions were explored: What led migrants to choose the region in which they now live? What factors helped them adjust to life in New Zealand? What were the challenges they encountered? And how can New Zealand improve the information newcomers receive to make it easier for them to settle successfully ?
Judi Altinkaya, National Manager Migrant Settlement, says the findings are a resource for the settlement sector.
"The information contained in the report will help us to shape the future of government-provided settlement services and information, and settlement service providers are sure to find it invaluable as well."
The New Zealand Migrant Settlement and Integration Strategy is designed to help migrants "Make New Zealand their home, participate and fully contribute to all aspects of New Zealand life."