The lucky country reaches out
Settlement ACTIONZ speaks to Aleem Ali, the National Manager of Australia's Welcoming Cities programme, about Australia's experience of migration.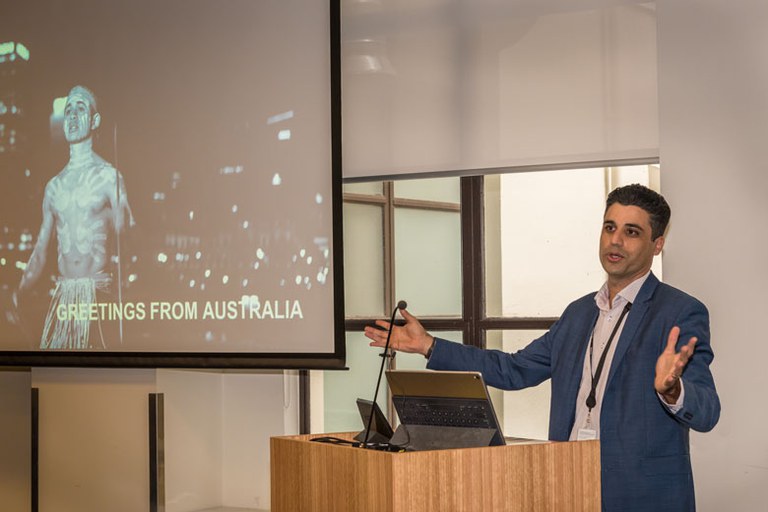 In the United States, a president, against all evidence, condemns Mexican migrants as criminals and rapists. In Italy, a deputy prime minister threatens to remove Roma people. In Britain, a backlash against migration is an element in the Brexit movement. Dark currents are stirring.
By contrast, in Australia – and New Zealand – most people have a more positive attitude about migration and its benefits.
In a 2017 survey, the overwhelming majority of Australians said multiculturalism has been a good thing, and most either agreed or strongly agreed that 'accepting migrants from many different countries makes Australia stronger'.
But this political and social consensus is not to be taken for granted, says Aleem Ali, the National Manager of Australia's Welcoming Cities programme.
That same survey reveals some less reassuring trends: for example, the 'strongly disagree' response to the statement 'accepting migrants from many different countries makes Australia stronger' has risen from 8 per cent in 2007 to 13 per cent in 2017.
Aleem worries that a 'them and us' narrative, driven by populist politics and social media clickbait misinformation, is becoming more prevalent – and destructive.
"We risk seeing people becoming resistant or even hostile to the idea of migrants, and of migrants, who feel isolated, unsupported and even unsafe, and find it difficult to integrate."
Migrants, he says, bring many social, cultural and economic benefits.
The Migration Council Australia estimates between now and 2050, migrants will add $1.6 trillion dollars to the Australian economy and 6 per cent to Australia's GDP growth, increase the percentage of the population with a university education by 60.4 per cent, and raise the after-tax income of low-skilled workers by 21.9 per cent.
"We need to create strong community connections between newcomers and locals," says Aleem.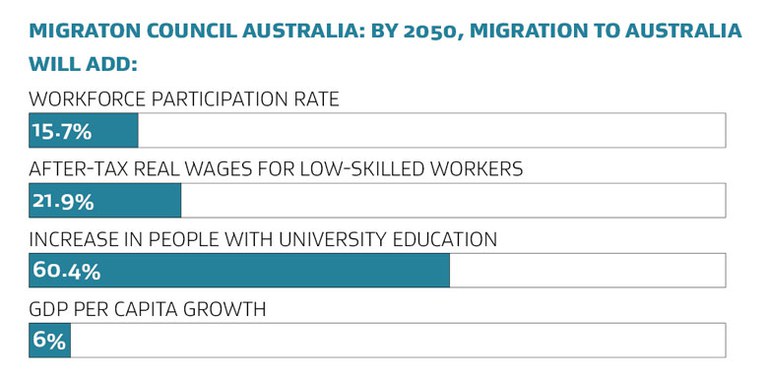 Any migration history of Australia must begin by acknowledging something too often forgotten, says Aleem: Australia is a long-inhabited landmass, with the history of its indigenous peoples stretching back 60,000 years.
"Before colonialism or invasion, depending on how you describe it, Australia's indigenous people had a deep history. There were over 250 language groups across the continent and quite complex trade systems, including visits by Indonesian Muslims in the far north."
This history was radically interrupted by the arrival of the First Fleet in Botany Bay, close to present-day Sydney, in 1788.
In the centuries since, many thousands of settlers representing a fluctuating mix of nationalities have arrived on Australia's shores in search of better lives.
Within living memory, Australia has seen the arrival of Britons, Greeks and Italians in the post-WWII years, Vietnamese after the Vietnam War, and Syrians during the Syrian conflict.
Currently the top source countries for migrants are India (8 per cent in 2106) and China (7 per cent).
In 2016, overseas-born people made up 28 per cent of the population – the highest proportion among OECD countries with populations of more than 10 million.
The net effect is that most Australians are no more than a few generations removed from being newcomers themselves.
"I think every wave of migrants to Australia has gone through a journey of resistance, prejudice and discrimination, gradually gaining acceptance," says Aleem.
"Sometimes I feel like we have a very short memory span about what it is like to be a migrant."
Aleem's father is one of that 28 per cent of Australians who were born overseas.
"My dad, who is Indian Fijian, migrated to Australia in the late '60s. He was sponsored by the Australian Government to come across to work in communications at Brisbane's airport," explains Aleem.
"Soon afterwards, he met my mum, who was a nurse, and fell in love."
It was an interfaith marriage. His father was a Muslim, the son of an imam; his mother was a Christian. Aleem was their first child.
"I am the eldest son of a Muslim man who married the eldest daughter of an Irish Catholic and English Protestant."
It was a happy marriage, and a socially progressive family. Aleem remembers a cheerful Australian childhood, during which he was known for his steadfast refusal to wear shoes.
He sometimes attended mosque on Friday with his dad, then was sent off to Sunday School at the local Baptist church by his mum on the weekend.
At the time it did not feel unusual to him, though sometimes he encountered disapproval.
"The sad thing is that I found the Christian side of my community were vastly less accepting of other faiths than the Muslim community, so I would find myself protecting my Muslim family and friends from too much exposure to my more evangelically Christian friends."
At secondary school Aleem set his mind on a career as an environmental engineer, "but my theatre teacher got in my ear and said 'Do an arts degree, it will give you a much better grounding in life.' That made sense to me; it made no sense to my parents."
At Queensland University of Technology, he studied "community cultural development with community theatre, mixed with a few other things".
In the varied career that followed, he has been involved in running and initiating a variety of social enterprises, often with a strong social justice bent. "I did lot of work in the indigenous and multicultural space."
He helped match homeless young people with public artists, enabling them to tell their stories. He worked with the Brisbane City Council to animate the city precinct, and with the Sydney Opera House Trust. He became a social entrepreneur, founding several altruistically driven ventures. He was ordained as a Christian pastor.
Along the way, he says, he learned a lot about what and what not to do.
Such as?
A failure to consult, is one 'not to do' he says.
"You say, 'We have this amazing policy; we did all the research,' and someone else says, 'But who did you talk to?'"
Another is its opposite: too much consultation and not enough action.
"Communities are also often consulted to death – and that consultation never goes anywhere," he explains. "It gets lost, and then someone else comes along and says 'We really want to work with you,' and they go, 'We have heard it all before.'"
Welcoming Cities, the initiative Aleem now heads, began with Australia's Scanlon Foundation.
The Scanlon Foundation was set up in 2001 "to enhance and foster social cohesion within Australia". Known for its annual Mapping Social Cohesion survey, the foundation has launched a number of projects over the years.
Welcoming Cities was set up by the Scanlon Foundation and an initiative called Welcome to Australia, with advice from Dave Lubell, the founder of Welcoming America.The aim of Welcoming Cities was to "create more inclusive communities by connecting local government leaders with frameworks, resources, on-the-ground activities and diverse organisations".
In late 2015 Aleem was one of the candidates for the position of National Manager invited to deliver their vision for Welcoming Cities.
"I heard later that the two-page strategic plan I pitched to them was nearly identical to the vision they had developed in their workshops," remembers Aleem.
The job was his.
Welcoming cities is one of a number of similar ventures worldwide.
In Canada, there is British Columbia's WelcomeBC programme, launched in 2007; in Europe, there is Intercultural Cities, launched in 2008; in the US, Welcoming America, launched in 2009; and in New Zealand, the latest addition to the movement, Welcoming Communities, was founded in 2017.
Each is an expression of its national environment, says Aleem.
The European programme is centrally driven by the European Union. The US programme is supported by a strong philanthropic sector, which has proven more than normally generous in today's political environment.
Australia, Canada and New Zealand place indigenous peoples at the forefront of their welcoming initiatives in ways that the US and Europe do not.
"In Australia, we see New Zealand as leading the way in this," says Aleem.
Welcoming Cities helps share good practice among its members as well as internationally.
"These days with technology, distance is not such a barrier. So, for example, the City of Stirling, outside of Perth, is more than happy to support Glenorchy City Council, outside of Hobart," says Aleem.
It costs nothing for a council to join the Welcoming Cities network, and councils can choose to become officially accredited as Welcoming Cities by advancing within the framework set out in The Australian Standard for Welcoming Cities.
So far, 18 Local Government Authorities have joined Welcoming Cities. Adelaide City Council and Knox City Council in Victoria are the most recent additions to the Welcoming Cities network.
For more about Welcoming Cities, visit: