Publications
Six new publications are available for download.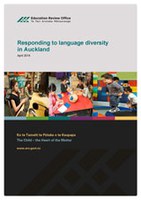 Responding to language diversity in Auckland (April 2108)
Education Review Office
Auckland is New Zealand's most culturally diverse city, with over 100 ethnicities and more than 150 languages spoken on a daily basis. How are schools and early learning services in Auckland responding to this increasing cultural and language diversity? This question was the basis for a new evaluation published by ERO.
Download the report from the Education Review Office.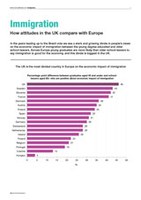 British Social Attitudes 34
NatCen Social Research.
NatCen, Britain's largest independent social research agency, has just released the results of its latest British Social Attitudes report. Readers may be particularly interested in the apparent trends in attitudes to immigration:
Despite the debate about immigration becoming more prominent and contentious, this chapter finds that in the 12 years up to 2014 our attitudes on immigration's impact on the country became largely more positive. However, underneath this change hides a social divide in attitudes which is among the starkest in Europe.
Download the immigration chapter from NatCen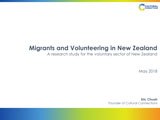 Migrants and Volunteering in New Zealand
Eric Chuah, Cultural Connections
In a small-scale survey conducted by Cultural Connections on behalf of Volunteering New Zealand, one in three migrants had volunteered within 12 months of their arrival. The benefits they identified were a sense of contribution, learning new skills, and a sense of belonging.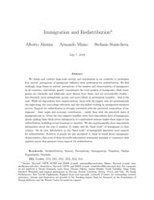 Immigration and Redistribution
Alberto Alesina, Armando Miano, Stefanie Stantcheva
Three Harvard academics have carried out large-scale surveys and experiments in six countries to investigate how people's perceptions of immigrants influence their preferences for redistribution.
The resulting paper finds that:
in all countries, respondents greatly overestimate the total number of immigrants, immigrants are culturally and religiously more distant from them, and are economically weaker – less educated, more unemployed, poorer, and more reliant on government transfers – than is the case.
In the US, on average, people thought 36 per cent of the population were immigrants when the true figure is 10 per cent.
misperceptions were most prevalent among:
the right-wing, the non-college educated, and the low-skilled working in immigration-intensive sectors.
Counteracting misperceptions with accurate information was most effective when emphasising the "hard work" of immigrants.
However, if people are also prompted to think in detail about immigrants' characteristics, then none of these favourable information treatments manages to counteract their negative priors that generate lower support for redistribution.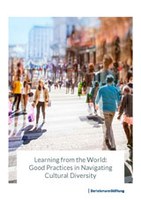 Learning from the World: Good Practices in Navigating Cultural Diversity
Bertelsmann Stiftung
The study documents the results of the international search for good approaches to dealing with cultural diversity, conducted for the Reinhard Mohn Prize 2018. Since living together in diversity is a matter of everyday life, the focus of the study is on the local level. It describes in detail the strategies of six cities in Europe, Canada and the US and presents exemplary projects for dealing with diversity in politics, business, education, the media and personal encounters.
The research shows that an attitude of acceptance and recognition of diversity, strategic political coordination and the creation of opportunities for encounter and dialogue are important factors in living together successfully.
Download the report from Bertelsmann Stiftung.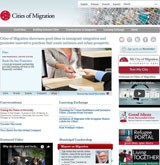 Cities of Migration
A website worth visiting
Hosted by Ryerson University in Canada, but international in scope, Cities of Migration showcases good ideas in immigrant integration and promotes innovative practices that create inclusion and urban prosperity. You can also subscribe to the CoM newsletter.