Building safer communities
Largely made up of volunteers from migrant and refugee communities, the Wellington Safety Patrol is proving its worth. Recently Settlement ACTIONZ attended the Wellington District Police Volunteer Awards, meeting past and present patrol members.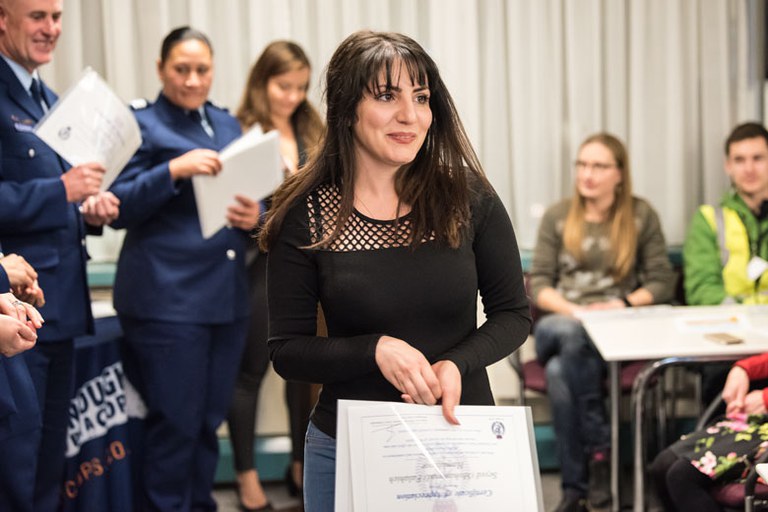 On a recent winter's evening, to mark National Volunteer Week, Wellington District Police held a celebration to honour volunteers helping to keep the community safe.
There to receive awards were members of the Pasifika Patrols, the Community Patrols, the Māori Wardens, the Local Hosts who are the city's street ambassadors and – the latest addition to the volunteer line-up – the members of the Wellington Safety Patrol.
For constable Som Fields, crisply turned out in her blue uniform, the occasion held a special meaning. The former postgraduate student began her police career as a safety patroller.
In the past two decades, as New Zealand has become more ethnically and culturally diverse, public agencies such as the Police have faced a recruitment challenge. How do they gradually change the composition of their staff to more accurately represent the communities they serve?
In 2009, Jessica Phuang, the Asian Liaison Co-ordinator for the Auckland City Police District, set up a volunteer Auckland Asian Safety Patrol to encourage more Asians to join the Police.
Today that patrol, now known as the Auckland Safety Community Patrol, has around 200 members from a range of origins: Pākehā (New Zealander of European descent), Pasifika, Māori, Middle Eastern, Latin American, African and Asian.
New Zealand's largest city, Auckland, is the most diverse of New Zealand's cities. With around 40 per cent of its residents born overseas, it is more diverse than cities such as Sydney or New York.
Elsewhere in the country, many towns and cities are also becoming more diverse.
In Wellington, the second-most populous city and the country's capital, 25 per cent of its residents are born overseas.
So in 2015, the Government decided to fund the creation of similar patrols in Wellington and in New Zealand's third-most populous city, Christchurch.
The patrols support the outcomes set in the Government's Migrant Settlement and Integration Strategy.
There are many benefits. The patrols serve as a way of attracting and upskilling people from a wide range of ethnic backgrounds, perhaps as a pathway to joining the Police or other public service agencies. They instil a sense of belonging and community service. They help migrants in the wider community feel safe and more at ease with asking the Police for help.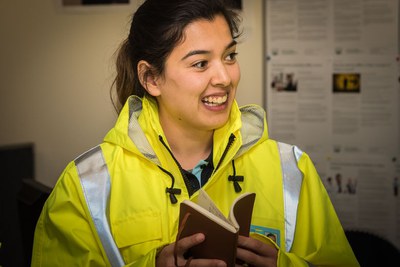 The Wellington Safety Patrol was founded with 12 patrol volunteers in April 2016 by Wellington District Ethnic Liaison Co-ordinator Sergeant Phil Pithyou, and Synteche Collins was appointed District Safety Patrol Co-ordinator later that year.
These days the Wellington Safety Patrol group has up to 65 members at any one time, and conducts 32 to 90-plus hours of patrolling per month.
The patrollers are called on for a range of work, from routine weeknight patrols to attending community and sporting events.
"One of the benefits is that the patrollers have the opportunity to network with communities, such as the LGBTQI community at the Wellington Pride Festival, that they might not have worked with in their countries of origin," says Synteche.
Often they work with people whose first language is not English.
 
"I think our patrollers speak around a dozen languages between them."
The patrollers are trained in the elements of successful patrolling, in radio and tactical communications, in alcohol harm prevention, and in first-aid training.
 
A number of the volunteers have completed the police preparation literacy course run by Literacy Aotearoa.
Eight former volunteers have gone on to join the Police, either as uniformed officers or as civilian staff, and a ninth volunteer is now a Customs Officer. Forty-eight former and current members of the patrol group are in the process of applying to join the Police.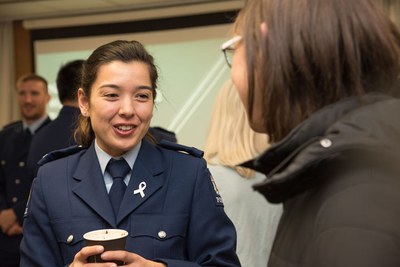 Constable Som Fields, a former volunteer, is enjoying the challenges of being a front-line police officer. "Though there is a bit more paperwork than I had expected," she says.
One of the challenges for District Safety Patrol Co-ordinator Synteche Collins is recruiting new patol members to replace those joining the police or moving on to other things.
She promotes the patrol at migrant and refugee network meetings, and at cultural and police recruitment events. She also makes use of social media, migrant blogs, brochures and word of mouth.
Elsewhere in New Zealand, Safety Patrols are now active in Christchurch, and there are now plans to set up Safety Patrols in Hamilton, New Zealand's fourth-most populous city.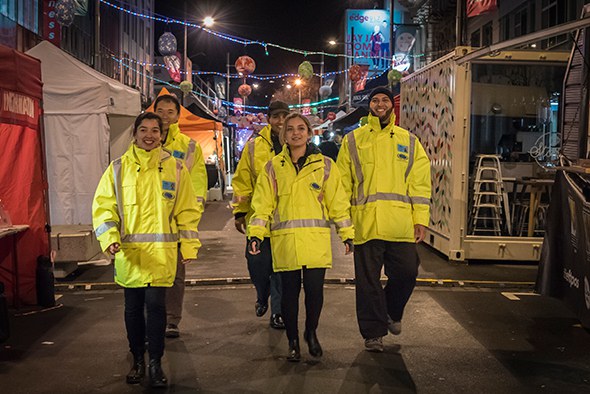 Above: The Wellington Safety Patrol at work.