Working together key to new Auckland agreement
Successfully attracting and retaining skilled migrants to the Auckland region is the primary focus of a renewed Regional Partnership Agreement (RPA) which has been signed by senior officials representing Auckland Tourism, Events and Economic Development (ATEED), Auckland Council and Immigration New Zealand (INZ).
The new agreement, which has a term of three years, was signed on May 9 in Auckland and will continue the great work that is already been completed over the past three years under the previous RPA.
"It's critical that we collaborate to ensure that migration into our largest city is managed effectively," says Steve McGill, General Manager of the Settlement Protection and Attraction (SPA) branch of INZ.
"I would like to thank everyone involved in getting this Agreement together and making it happen."
While the previous RPA included some fantastic work involving employability for highly skilled international IT students, the new agreement will have a stronger focus Auckland as a welcoming city, working together towards supporting Pacific communities and support for key industries.
However, one of the greatest outcomes for this type of partnership is the experience the three agencies gain through learning to work together – particularly in terms of information and resource sharing.
"Because of our closer working relationship over the last three years the development of the new RPA itself has proven to be a relatively simple process," says INZ Relationship Manager, Jason Chand.
"We have been able to be much more targeted and clear about the goals and deliveries we want to work on together for the next three years."
These are also messages that have been echoed by the partner agencies:
"Working together, collaborating under the RPA enables us to achieve better outcomes for the Auckland region, and ATEED has truly valued this approach since first signing this agreement in 2015," says Pam Ford, ATEED'S General Manager Economic Development.
"Auckland Council is pleased to renew its commitment to the Auckland RPA," says Graham Bodman, Auckland Council's General Manager Arts, Community and Events.
"Belonging and participation is a key strategic priority for both Auckland Council and INZ. The RPA represents a tangible way for our agencies to leverage our respective networks and skills to create welcoming communities for all Aucklanders."
Given the success of RPAs as a means to assist regions to best leverage migration as an economic and social enabler, other regions throughout the country are now considering how an agreement may benefit their slice of New Zealand.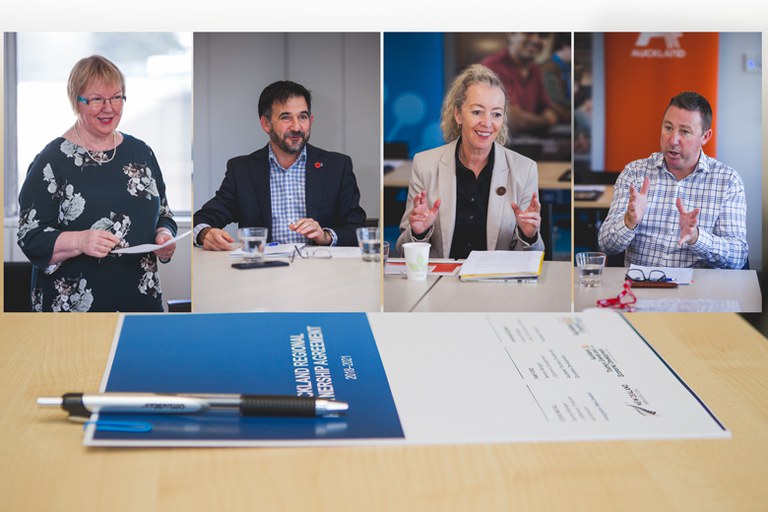 Left to right: Judi Altinkaya, Immigration NZ; Graham Bodman, Auckland Council; Pam Ford, ATEED; Steve McGill, Immigration NZ.