Showcasing Wellington Migrant Employers
Three Wellington businesses – Catalyst IT, Village at the Park and Geeves Scaffolding – were named as recipients of the Immigration Gold Showcase at this year's Wellington Gold Awards on 24 May.
Established in 1999, the Wellington Gold Awards celebrate the excellence and the enterprise of business in the Wellington Region. The Immigration Gold Showcase category is about recognising employers that go the extra mile to ensure that their new migrant employees are welcomed and supported through the challenges of adjusting to Kiwi workplaces, while they settle and build a life in Wellington.
"We are delighted to showcase three successful Wellington firms through this initiative," says Immigration New Zealand (INZ) General Manager, Steve McGill.
"It's thanks to employers like this that New Zealand is able to attract the best people with the skills they need to grow their business. It's no secret that businesses are New Zealand's job engine and it's fantastic to see their efforts recognised at these awards."
Wellington – like all regions – has always been reliant on migrant skills to help its economy to grow. Immigration policy allows overseas workers to fill jobs when no New Zealanders are available and/ or when there are particular skill shortages.
This year's winners have all demonstrated a commitment to supporting migrant workers in their own unique way:
Catalyst IT has been delivering world-class open source custom software solutions for well over a decade. Headquartered in Wellington with offices in Auckland, Christchurch, Australia and the UK, Catalyst IT has been through some spectacular growth.
The trouble is, they can't train people fast enough to keep up with the demand. Taking on junior developers locally is working well, but the more senior roles are harder to fill.
So, Catalyst IT has gone global in its search for talent. Tapping into Immigration NZ's resources and combining those with the company's no-holds-barred diversity policy, new recruits from offshore are helped to fit in, both with the company and with the wider community.
Monthly 'pizza meetings' and social events aim to make sure newcomers are on board and feel part of the crew.
Geeves have been putting scaffolding up all over the Wellington region and across the country for quite a while.
While there's a lot of pipe work, people able to put it up are a bit thin on the ground – so Geeves goes the extra mile to hold on to staff by offering great working conditions and career pathways, and using INZ's systems effectively when they need to bring in staff from overseas.
With most migrant workers coming from the Philippines, Geeves offer tailored help including English language assistance, especially around understanding and communicating health and safety (H&S) information.
By also establishing a supplementary Filippino H&S committee, Geeves makes sure that H&S concerns can be raised in a way that is comfortable culturally.
Village at the Park is a residential lifestyle facility, offering independent living options through to high level care support.
There are currently 15 different ethnicities among the staff, so Village at the Park puts a lot of effort into creating an inclusive and supportive workplace.
This includes regular cultural diversity days where staff wear their national costume and share food.
The Village also has provided a tailored literacy and communication programme and hosts research of internationally qualified nurses' experiences transitioning to New Zealand and working in aged care.
All three employers strongly endorse the benefits of a diverse workforce.
Anne Palmer of Catalyst IT says diversity is one of the foundations of the firm's creative and highly social work culture.
"We work with open source software, which attracts community-minded people, and with people from every continent it makes for a wonderful 'beer o'clock'."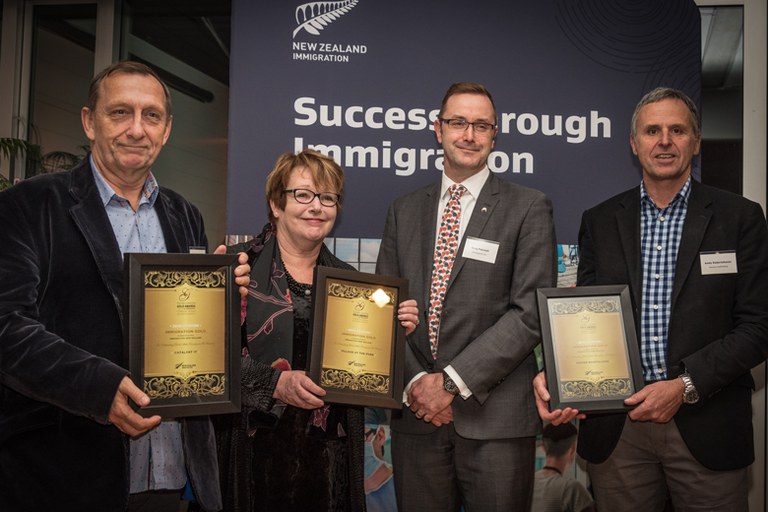 From left: Jack Gilmour, Catalyst IT; Mary Leighton, Village at the Park; Greg Patchell, Immigration NZ; Andy Robertshawe, Geeves Scaffolding.