Growth prospects
Selwyn, New Zealand's second-fastest growing district, is going the extra mile to welcome newcomers. Settlement ACTIONZ talks to Jason Flewellen, the local Welcoming Communities coordinator.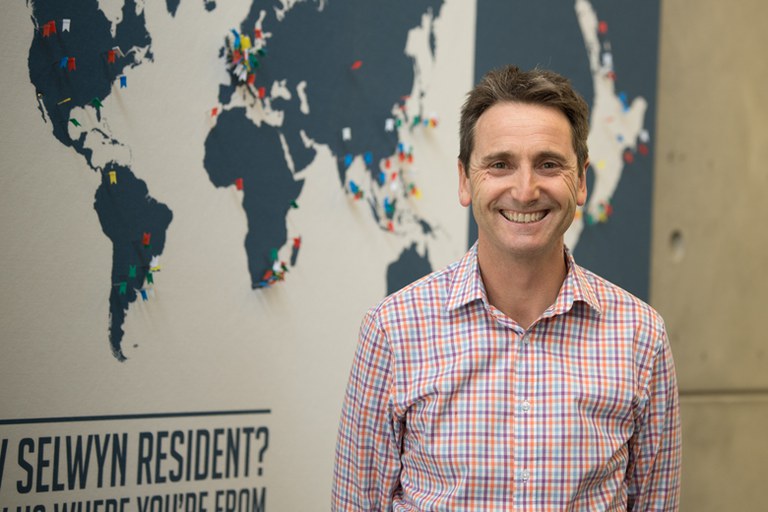 Great things have long been predicted for Rolleston. In the 1970s, Labour Prime Minister Norman Kirk thought the semi-rural village of 1000 people 22 kilometres outside of Christchurch had the makings of a future satellite town. So in a rush of enthusiasm the locals put up a roadside sign declaring Rolleston 'the town of the future'.
The optimism was early. As generations of drivers passing by the sign on the way to other places joked, Rolleston was the town of the future – and always would be.
"In 2000 there were just 2000 people here," says Jason Flewellen, who among other things is Selwyn District Council's Welcoming Communities coordinator.
But change was coming.
We are in the Selwyn District Council's headquarters, an architecturally-designed complex of single-storey buildings clad in river stones. Outside, the town of the future is arriving in a rush.
Within walking distance is a business park and a swimming pool complex. A town square with a new library and community centre is to be built around the corner. A new section of motorway will ease the traffic flow into Christchurch and connect the massive local inland ports that hold freight destined for the seaport of Lyttleton. There are new schools and shops and talk of a movie theatre. Everywhere, gleaming new suburbs are springing up, with paint freshly dry and lawns newly laid.
The speed of development is phenomenal.
"One of the new subdivisions in Rolleston is Farringdon. It has its own postcode, its own shopping complex. On average, Farringdon has 15 new residents arriving a week, and new subdivisions are opening all the time," says Jason.
Blessed with easily developed land and situated within easy commuting distance of Christchurch, the Selwyn District towns of Prebbleton, Lincoln and West Melton are also booming.
Much of the reason for Selwyn's expansion lies with the devastating earthquakes that hit Christchurch in 2010 and 2011, displacing people from their existing homes.
Almost every house in Bexley, the suburb where Jason and his family had lived in the eastern suburbs of Christchurch, was rendered uninhabitable by soil liquefaction.
In contrast, Rolleston, sitting on earthquake resistant river gravels, came through the quakes largely unscathed.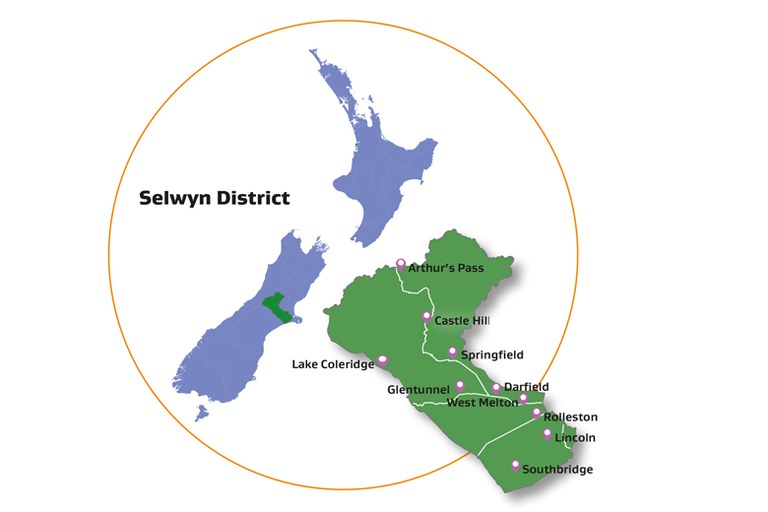 "We were red-zoned in the first earthquake.My wife was pregnant, and we wanted to come somewhere that wasn't broken where we could relax, so we settled in Rolleston," explains Jason.
For a number of years he commuted to work in central Christchurch before joining the Council.
Displaced Christchurch residents were joined by a multinational workforce that came to work on the rebuild.
South African, British and Australian migrants are noticeably in evidence, says Jason, along with Kiwis moving in from other regions.
"I think most of them are here to stay."
In Selwyn's more rural communities, Filipino workers brought in by the dairy industry are becoming a presence.
"The only district growing at a similar rate to Selwyn is Queenstown, and it's a bit of a race between us and Waimakariri to see which of us will qualify as the third most populated district in the South Island," says Jason.
The results of the latest Census are eagerly anticipated.
One of the Council's responses to its expanding population is its Newcomers and Migrants Strategy, which was launched in 2015 and has become the basis of Council's participation in the current Welcoming Communities pilot.
For Jason and the District Council, keeping up with the pace of development is both demanding and rewarding.
"When you are dealing with such a massive group of new migrants, it feels like everything you do to reach out is appreciated," says Jason.
He is grateful that the Council's work culture embraces innovation.
"Growth has meant that we are empowered to try new things, and if they don't work to try something else."
Growth prospects

Nine councils across five New Zealand regions are working with their communities to pilot Welcoming Communities, a new programme that puts out the welcome mat to newcomers: recent migrants, former refugees and international students.
The Canterbury region is home to two Welcoming Communities pilots, one run by Ashburton District Council, the other by its neighbour Selwyn District Council.
As part of the Welcoming Communities pilot, Selwyn District Council has adopted a number of initiatives, some already established, others planned. They include the multi-language website Everything Selwyn, Meet your Street neighbourhood events, bus tours of the district, newcomers and migrant Information booths in the District's libraries, publishing Welcoming Folders, telling the stories of newcomers and the contribution they are making, an annual CultureFest event, and introducing a one-day global football tournament, which will be run by Selwyn United Football Club.
Show me Selwyn
'Show me Selwyn' offers Selwyn residents the chance to explore the diverse district they have made their home.
The idea began with Jason Flewellen.
"One of the things the Council does for new staff is run introductory van trips around the district and the Council-run facilities.
"I found this really useful, and I thought, why aren't we doing this for newcomers ? So we trialled it this summer."
However, Selwyn district, which runs from Lake Ellesmere on the coast of the Canterbury Plains to the mountain landscape of Arthur's Pass was too big to take in on a single tour.
"When you have families and children, you really don't want to spend more than two or three hours on a bus," says Jason.
The solution has been to offer two tours, 'Foothills and Mountains' visiting the foothills of the Alps and a settler museum, and 'Lakes and Pa', with a visit to Lake Ellesmere and a welcome on to the Ngāti Moki Marae.
Four trips were run over the summer of 2017-2018, all of them fully subscribed, and while anyone can pay the small fee and come along, usually people are newcomers, says Jason.
"We have had great feedback and it's something we hope will continue in future."
Meet your Street
The subdivision has been built, the services installed, the houses occupied, all that remains to do is to build the social support offered by a sense of community.
This is the purpose of Meet your Street, a meet-your-neighbour initiative run and supported by the Selwyn District Council.
Choosing a logical geographical area, usually with a public park as the venue, the council mails out invitations to come along to a Meet your Street event.
The events are held on Tuesdays, running from 5.30 to 7.00pm.
"We set it up, supply the barbeque, some music and games for the kids, and then we get out of the way – we don't want these to be seen as Council events," says Jason Flewellen.
Depending on the area, up to 60 people may turn up.
"We get the best bang for the buck in new subdivisions, because absolutely everyone is new."
The events run from November to March.
"We ran 18 events over this season and we plan to do 19 next year," says Jason.
"In their daily life, people will stop and wave at one another in the street, but Meet your Street gives them the time to get to know one another, to ask about each other's children and find out what people do for a living."
"You see people shaking hands, introducing themselves, adding names to contact lists."
For communities that want to run their own Meet your Street events, the Council offers a grant of up to $75 towards food, non-alcoholic drinks, games, and prizes.
"We are finding that streets where we ran Meet your Street two years ago are now running their own street gatherings."
Everything Selwyn
Everything Selwyn is a multi-language online directory of community groups and services in the Selwyn district, offering information about everything from local schools and sports teams to special interest groups and what's on.