Welcoming Communities New Zealand update
A strong, vibrant and welcoming community is one that enables all of its members to contribute to and participant in economic, civic and social life. Communities where newcomers are made to feel at home are more likely to enjoy better social outcomes and economic growth.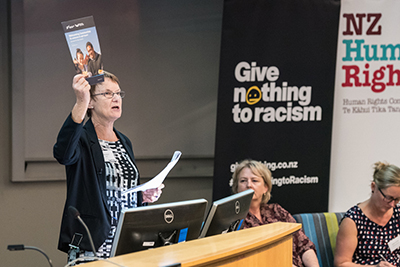 This is the premise that sits behind Welcoming Communities – an exciting and innovative two-year pilot programme (July 2017-June 2019).
Welcoming Communities supports local government councils and their communities to become even more welcoming to newcomers. Newcomers are defined as recent migrants, former refugees and international students, but locals and newcomers from elsewhere in New Zealand will also benefit.
Immigration New Zealand is leading Welcoming Communities in collaboration with nine councils across five regions, the Office of Ethnic Communities, the Department of Internal Affairs and the New Zealand Human Rights Commission.
Where other settlement initiatives have focused primarily on newcomers, Welcoming Communities is unique in that  it actively involves local residents in welcoming activities, thereby promoting positive interaction and links between members of the receiving community and newcomers.
At the heart of the programme is the outcomes-based Welcoming Community Standard (the standard). Many settlement stakeholders provided feedback on the draft standard late last year. Your comments informed the final changes to the standard .
The standard provides councils and communities with a benchmark for a successful welcoming and inclusive community. They will work towards to become accredited as a 'welcoming community'. The eight elements of the standard include equitable access, inclusive leadership, civic engagement and participation and welcoming public spaces.
Immigration New Zealand is hearing that councils not involved in the pilot programme and some community groups are using the standard framework to think about how they are working with locals and newcomers.
Since the programme launch in July 2017 there have been a number of important milestones. The nine councils involved have all appointed dedicated Welcoming Communities staff, set up advisory and working groups and conducted a stocktake of current welcoming initiatives. They are now working with their communities to develop bespoke Welcoming Plans and will later implement a range of initiatives to meet the standard's outcomes.
Immigration New Zealand has also developed Putting out the Welcome Mat – a resource to help the councils draft their Welcoming Plans. The resource provides a number of welcoming activity ideas for possible inclusion in Welcoming Plans.
The resource can also be used by others interested in ways to build bridges between locals and newcomers. Immigration New Zealand invites you to send additional ideas, examples and case studies for inclusion into the online resource to settlement.information@mbie.govt.nz.
The Welcoming Communities programme is being implemented as a pilot with a parallel evaluation process. If the evaluation shows the programme has been successful, it may be rolled out to other regions in New Zealand from July 2019.
The Welcoming Communities programme in New Zealand draws on and shares learnings across similar successful international welcoming initiatives operating in Australia (Welcoming Cities), Canada (Cities of Migration) and the United States of America (Welcoming America).