Taranaki Multi Ethnic Extravaganza
Our photographer attended the annual Taranaki Multi Ethnic Extravaganza. Here's what the day looked like.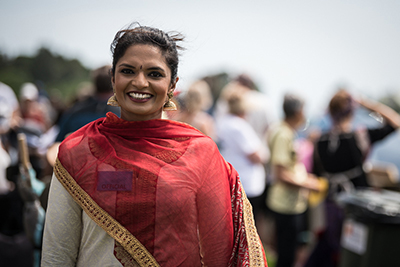 Anupama Kutty (pictured) likes people and she likes being an organiser, but when the dancing begins on the main stage at New Plymouth's Raceway she feels torn.
For many years, the coordinator of Taranaki's Multi Ethnic Extravaganza was one of those dancers.
"I love to dance. When the music comes on, you just can't stop yourself."
Anupama – Anu to her friends – came to live in New Plymouth from Bahrain shortly before her 12th birthday.
Her father, Narayan, is an engineer with the petrochemical industry and her mother, Geetha, has given many years of service to the Taranaki migrant community.
Following in her father's career footsteps, Anu is now a project engineer for an oil and gas consultancy. Looking back, she says that moving to New Plymouth was one of the best decisions her parents ever made.
"I feel very fortunate to call New Plymouth home."
First held in 1995, the Multi Ethnic Extravaganza begins with a parade through the centre of New Plymouth and then moves to Pukekura Park, where a sound stage hosts performances.
More than 77 different nations are represented in the parade, and 25 food stalls and 30 art and craft stalls are in business at the park.
Multi-Ethnic Council President John Konijn says the extravaganza and the local support it generated over the years are a good expression of what New Plymouth – and Taranaki – are about.
"It's one of the best provincial cities in New Zealand, probably because of its distance from anywhere. It means you have to do things for yourself," he says.