Shifting focus
Aucklander Bo Li is forging new connections between the film industries of New Zealand, the Pacific and Asia.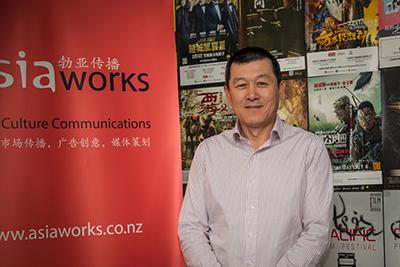 When Bo Li left China with his wife and daughter in 1996 his friends were mystified.
Bo was doing well, he was a property owner with  his own advertising agency and his wife had a secure job as a public servant.
"At our farewell party, my American English teacher said to me, 'You have such a comfortable life, why are you leaving?' he remembers.
"I told him, 'I just want a change.'"
Bo was looking for a better life for his family.
He was thinking about moving to America, when a contact who had already made the move suggested New Zealand.
Bo and his family arrived in Auckland on Labour weekend with three suitcases.
Other than their one New Zealand contact, they knew no-one. They did not know whether they would stay.
But Auckland worked its magic. Beijing had been dark and covered in smog. In Auckland, the sun was shining, the air was fresh, and children were out playing in the parks.
They sent their five-year-old daughter to school.
"I asked to see what the children had in their schoolbags, and when I opened one up: nothing! No homework. What a life!" says Bo.
"My New Zealand life started at that point."
Bo had been taught English in China, but Kiwi English was different.
"I was taught American English, but here the words, the expressions, and the accent were very different. I would say something, and Kiwis would say 'What? Pardon me?' It was very stressful."
He and his wife enrolled with AIT (now Auckland University of Technology) for a one-year course that combined studying English with design and graphics, and after graduating he found a job as a production manager for a printing and design firm.
During the next three years, Bo noticed Auckland changing. He heard more and more Mandarin and Cantonese spoken on the streets and he saw more and more Chinese students going upstairs  to the international language school operating on the floor above his workplace.
"I thought, this is a chance for me to do something. My English had improved dramatically, so I resigned and said goodbye to my boss," says Bo.
Together with another Chinese migrant, Bo founded a company that would target two business opportunities: information to help new migrants, and design consultation and translation for businesses wanting to cater to the growing Asian community.
Their clients soon included banks, telecommunications companies, high-end car manufacturers and government agencies.
Bo gives the example of working for Inland Revenue to promote the launch of the work-based savings initiative Kiwisaver in 2007.
"When they showed me the poster they were using for the general population, I couldn't see how an Asian audience would be able to make sense of it. Perhaps my English was not good enough."
In its place, Bo and his partner produced a poster designed to have instant appeal.
It showed a father helping his son to fish, with a fat carp on the end of the line.
"We wanted to show the employer and employee working together to reap a reward, and among Asian cultures the carp is often used to symbolise good fortune."
Over time, the nature of Bo's clients and the work they wanted changed.
The bilingual children of Bo's generation of migrants grew up to become sought-after employees for larger businesses who began creating their own in-house Asian marketing teams.
Nowadays, banks have dedicated Asian-language staff and telecommunications company Spark operates an 0800 Asian language hot-line.
Even so, Bo's firm Asiaworks has a continuing flow of work from agencies who want to reach out to Asian New Zealanders.
A typical recent multimedia campaign was run on behalf of the Auckland and Waitemata District Health Boards to help migrants and international students understand how New Zealand's health system works.
"We used press advertisements, articles, fliers and posters and a mix of social media – including Wechat for Chinese audiences, Kakaochat for Korean audiences and Facebook," says Bo.
The mix of media highlights another set of changes that has occurred in the 20-plus years Bo has been in New Zealand.
When Bo arrived, there was almost nothing in the way of local Asian media, the internet barely existed, mobile phones were purely for phone calls, and there was no such thing as social media.
Nowadays there are four dedicated Chinese-language television channels broadcasting around the clock, two locally-based major Chinese language web portals (Skykiwi and the Chinese Herald), and a variety of heavily-used social media platforms (notably WeChat and Weibo).
Have these changes made people better off? Bo's view is mixed.
On the plus side, anyone can now quickly find information and services in their first language. On the minus side, he worries that it has become too easy for people to function inside their language 'bubble' without engaging with the wider English-speaking community.
"If you are a Chinese speaker and you want to know what's happening, it is very easy to go online to Skykiwi or the Chinese Herald or WeChat. But the stories  you see have been chosen to appeal to the Chinese community."
Looking back, Bo believes he was fortunate to arrive in New Zealand at a time when you had to learn English to function in your daily life.
 "I think I arrived at a good time. The Chinese community was very small, and everyone was doing their best to make friends with their Kiwi neighbours, learn English, understand the culture and become part of the mainstream."
He remembers Kiwi volunteer English teachers and migrants gathering at 'English Corner' at Potters Park on Auckland's Dominion Road.
He urges newcomers to make the effort to learn English and to share the local culture.
"You have to be prepared to learn and adapt, otherwise why come here?"
The project that most excites Bo at the moment is the New Zealand Asia Pacific Film Festival, which he co-founded with Leo Liu and Preston Zhang in 2013.
In 2017, the Festival, held in Auckland's Skycity, attracted entries from Korea, China, Japan, India, and New Zealand, together with directors, producers and film stars.
New Zealanders know of the New Zealand-Hollywood connection, and many will know that India's film industry, 'Bollywood', has sometimes used New Zealand locations.
But not many will know that Wolf Warrior 2, China's biggest-ever box office success, was made with the help of Wellington's Park Road Post Productions' sound editing and mixing suites or that New Zealand is becoming a favoured location for Chinese film makers.
While visits to New Zealand by Hollywood stars, like Scarlett Johansson or Tom Cruise, headline in the mainstream media, visits by their Chinese equivalents, like Wu Jing the most well-known Chinese actor and director, go largely unnoticed.
In 2016, China's film market brought in box office revenue of US $8.17 billion, coming in second only to the United States, which had box office revenue of $10.31 billion.
Early in 2018, Bo is booked to spend time with a visiting Chinese film crew.
"The Chinese film industry connection is significant. When production teams visit they may have up to 50 people," says Bo.
But Bo and his fellow organisers also know that the New Zealand Asia Pacific Film Festival is much more than a Chinese film festival.
"We are working with the Korean, Japanese and Indian communities to make sure they are excited and involved and we are reaching out to engage with Kiwi audiences."
Does Bo ever wish that he had stayed in China? After all, many of his friends who stayed behind have become wealthy.
He made the right choice, he says.
"I have breathed 20 years of fresh air in New Zealand. I have no regrets.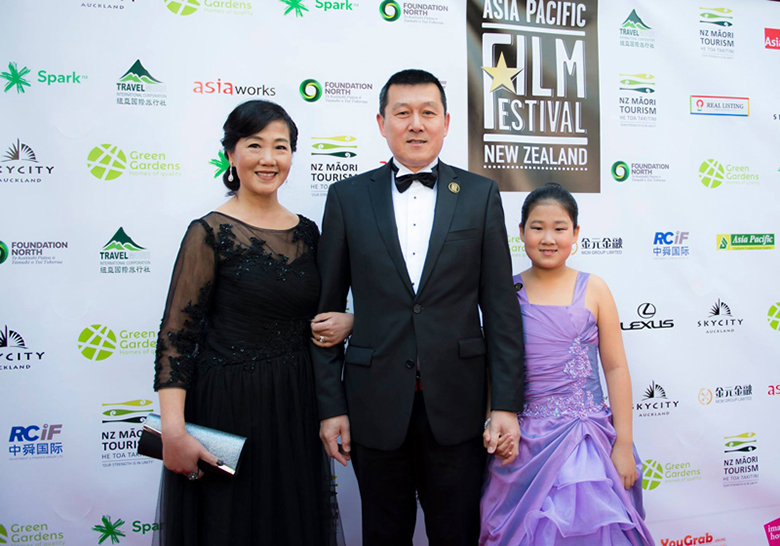 The importance of respect
One significant difference between New Zealand's culture and that of most Asian countries is the relative lack of formality, says Bo.
In New Zealand  an employer and an employee might chat to one another in the lift using their first names.
In academic terms, New Zealand has a low power distance.
Among Asian cultures, things are different.
"You need to show proper respect for senior people, for dignitaries, for community leaders," says Bo.
In 2008 Bo went with Prime Minister Helen Clark to China for the signing of the New Zealand-China Free Trade Agreement.
"Before we left Auckland, you could shake her hand, take a photo with her, have a chat. Everything was good. But once we arrived in Beijing, she was surrounded by bodyguards. You could only see her in the distance."
He gives another example. "My son-in-law, he's a good Kiwi boy. He'll say 'Hi, how are you?' In China, he would call me father and talk to me much more formally."
As someone who has chosen to become a Kiwi, Bo quite likes the informality.
But when he works with Asian cultures, he knows the importance of showing proper respect.
"If you show respect, people will respond with goodwill. Even if your English is poor, they will see that you are a good person and that they can work with you."