Pathways 2018
In February, the annual two-day Pathways Conference was held at Massey's Albany campus.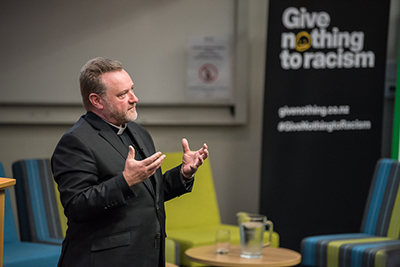 The keynote speakers were Professor Steven Vertovec from Germany's Max Planck Institute for the Study of Religious and Ethnic Diversity, who first introduced the world to the now widely-used term superdiversity; Associate Professor Amanda Wise from Australia's Macquarie University, who examined issues to do with diversity using the lens of the interactions that take place in her local city park; and Father Rod Bower from the Gosford Anglican Church in Sydney, Australia.
Father Bower was one of a number of speakers representing communities of faith at this year's conference.
In her opening address, Minister of Ethnic Communities Jenny Salesa asked those attending to think about whether New Zealand functions as a truly inclusive society and whether we have progressed since the 1980s, the decade when she and her family arrived in New Zealand from Tonga.
The Pathways Conference is hosted by the CaDDANZ (Capturing the Diversity Dividend of Aotearoa/New Zealand) research programme, which is funded by the Ministry of Business, Innovation and Employment. This year the conference was supported by the Human Rights Commission, Auckland Council and Diversity Works.