A healthy outlook
On the ward, the nurses and doctors were puzzled. An elderly Korean-speaking woman recovering after a fall had begun sleeping on the floor next to her bed. Grace Ryu from Waitemata District Health Board's Asian Health Services (AHS) took the call: could someone talk to the patient and tell them what was going on? The patient said she was used to sleeping on the floor and simply thought the hard surface would be good for her back, says Grace.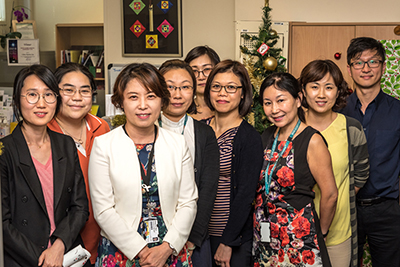 A simple cultural difference and the language barrier could have led to the wrong course of action.
"Instead, she answered a few questions, asked some of her own, and a few days later she went home happy," says Grace.
The area covered by the Waitemata District Health Board – North Shore, Rodney and West Auckland – is home to over 615,000 people, making it the largest District Health Board (DHB) in the country.
Of this population, 22 percent identify as Asian, a figure projected to reach 28 percent by 2033.
Many, like Grace's elderly Korean patient, were born overseas and do not speak fluent English.
If you have grown up in New Zealand, you probably know more about the health system than you realise.
You know about enrolling with a primary health organisation, health screening programmes, and the roles played by public hospitals, ACC and private health insurance.
However, health care in much of Asia is very different, explains Grace.
For example, in China or Korea, it is unusual to have a family doctor. Normally, someone with a non-urgent medical problem will go to one of the many small specialist clinics or hospital emergency departments, turning up without an appointment.
Someone who does the equivalent in New Zealand and turns up at the emergency department of a local hospital with a minor medical problem puts it under pressure and is not taking their long-term care into consideration .
Cultural misunderstandings can happen very easily – sometimes with the migrant,  sometimes with the health provider.
Depending on their backgrounds, people may have quite different ideas about what is non-urgent, urgent or an emergency, and they may not know much about the role of a family doctor or how the New Zealand health system works.
"People often don't realise what they don't know," says Grace.
Waitemata DHB is a star performer in the New Zealand health system and its residents chances of living a long and healthy life are good.
The challenge for Grace and the Asian Health Services team is to build and improve on this record, even as the region's population profile becomes both more ethnically diverse and increasingly elderly.
They are offering a broad range of services to help people through various stages of the New Zealand health system.
The first experience for some people will be through the Services' iCare helpline, which is staffed by English, Chinese (Mandarin and Cantonese) and Korean speaking staff.
The iCare helpline helps callers find a family doctor or enrol with a Primary Health Organisation.
Its staff can also book, reschedule, or cancel appointments, and, if someone has a hospital appointment, it will give them a confirmation phone call.
When an Asian patient is admitted to hospital, the Asian Patient Support Service takes over.
"If someone is booked for surgery,  an interpreter will make sure they know exactly what is going to happen and that we have their consent," says Grace.
The Asian Patient Support Service helps meet patients' needs through hospital stays, providing family support, and, when the patient returns home, a period of phone-call support.
Primary Health Organisations within the DHB's area can ask Asian Health Services to provide interpreting, either face-to-face or over the phone. Interpreting services are available in 90-plus languages and dialects.
Asian Health Services also has a dedicated Asian Mental Health Service; provides a breast screening support service available for 45-69-year-old Chinese and Korean non-English speaking women; and runs health seminars and promotional events.
"Our aim is to provide holistic care, and I think we are succeeding. We constantly collect feedback, and every two years we carry out a survey. So far all of the news is good," Grace says.
22% - Proportion of Waitemata DHB residents who are of Asian descent
92.9 years - life expectancy for people of Chinese descent in Waitemata DHB
90-plus - Languages & dialects offered by Asian Health Services (includes NZ Sign Language, Asian, Pacific, European, Middle Eastern and African languages)
The migrant health effect
Immigrants are often healthier on average than the people in both their source and destination countries. The reasons for this are complicated and have to do with both the profile of the people who choose to migrate and the screening processes in place in their destination countries. Unfortunately, as people adapt to their new country, the immigrant health effect usually fades.
Bridging cultures in healthcare
One of the roles performed by Asian Health Services is educational, helping healthcare professionals become more skillful at working with people who come from different cultures and speak different languages.
One mistake Grace tells people to avoid is the use of red pens on consent forms. Red is widely accepted as a symbol of luck and prosperity, but writing someone's name in red is often associated with death in a number of Asian cultures. "It would be better to avoid red ink on a patient's form," says Grace.
For similar reasons, the number four should be avoided if possible.
Then there are deeper cultural taboos.
Women's health, mental health and domestic violence, which are difficult subjects generally, are harder still to deal with in many Asian cultures.
In the Waitemata District Health Board area Asian women are less likely to have been screened for cervical cancer than the general population. However, the Asian breast screening rate has significantly improved due to the efforts of Asian Health Services, reaching the 70 per cent target rate in 2017.
There are different approaches to authority. In New Zealand, we are used to a consultative approach – one in which several treatment options, from conservative to aggressive might be offered. In Asian cultures, the doctor is expected to choose the treatment.
"In Korea and China, if the doctor offers you several choices, you tend to think, 'he doesn't know what to do'," says Grace.
There are different approaches to patient privacy. Full disclosure to New Zealand patients is mandatory. An elderly patient with terminal cancer will be told the prognosis; in some parts of Asia, only the near relatives will be told.
Even finding out someone's age can be complicated by cultural differences.
"Say someone says they are 82 when the charts say 80, a culturally competent doctor will know to ask whether they mean their Kiwi age or their Asian age," says Grace.
In China, a person's age begins at conception, so at birth they are counted as a one-year old, and at Chinese New Year they turn two, adding two years to their age.
Culture needs to be factored in when assessing patients.
"If you are testing someone's memory, you might ask them to memorise and repeat a shopping list. But different shopping lists will give you different results.
"For someone from an Asian background, items like soy sauce and tofu, which are part of their everyday shopping, will be easier to remember than Marmite and muesli."
Grace is fascinated by cultural difference.
"Everybody works from within their own culture, but from the inside you can never see things objectively."
The value of volunteering
Grace Ryu arrived in New Zealand in 1997 with a small bag and a three-year work visa. She knew very little about her new home – except that people liked it.
"All I could find in Korea was a simple guide called something like, 'the last paradise in the world'" she remembers.
Newly graduated with a Master's degree in pastoral counselling, Grace took up a job with a Korean congregation's youth ministry.
It turned out that the church was where the community went for settlement support.
Grace found herself doing everything from dealing with Government agencies to helping people sign up for power and phone connections.
Grace soon realised that she liked Auckland and wanted to stay.
After applying for residence and becoming a citizen, she married, and, when her son was born, she switched to working part-time. In the time she had left over, she started volunteering for Waitakere Hospital, answering enquiries from the Asian community.
"I had never been part of a mainstream organisation before and I wanted to contribute," she says.
"People would ring up asking for help finding a GP [General Practitioner] or sometimes a JP [Justice of the Peace] and I would have to explain that a GP is a medical doctor and that a JP is someone who can verify your signature."
She was offered a paid role as a volunteer coordinator. That led to her appointment as team leader for the Asian Patient Support Team, and, once she had completed a Master of Social Work (Applied) through Massey University, to her present role.
Grace has never forgotten how life-changing volunteering was.
Over the years, she has served on ethnic advisory boards for the Waitakere District Police and the Auckland Council, and she is currently on the national board of English Language Partners.
"I think volunteering brings you good fortune. It gives you that vital work experience and it connects you to the community."