Building diversity and inclusion
In December, Immigration New Zealand's (INZ) Settlement Unit hosted a meeting of the government Diversity and Inclusion Network. This Network is coordinated by the State Services Commission and is intended to promote discussion of diversity and inclusion issues and sharing of best practice across central government.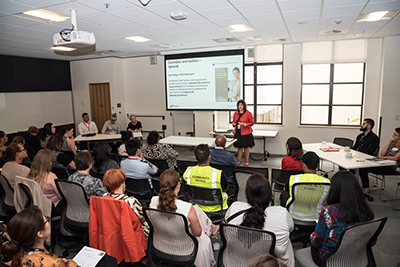 The meeting's theme was 'Collaborating across government to settle and integrate newcomers in New Zealand'.
After a welcome by MBIE's Culture and Partnership Manager Raniera Albert from MBIE's Maori Economic Development Unit, Anne-Marie Masgoret and Anna Spencer of INZ's Settlement Unit's Strategy and Products team gave an overview of the New Zealand Migrant Settlement and Integration Strategy. This set the scene for speakers from MBIE's cross-government and service partners who presented on their work supporting the five Strategy outcomes: Employment, Education and Training, English Language, Health and Well-Being, and Inclusion.
James Sauaga, Programmes Coordinator at the Wellington Chamber of Commerce, and Gary Basham, the (TEC) National Manager of the Tertiary Education Commission's WorkConnect programme, talked about the new collaborative approach to strengthening employment outcomes for skilled migrants and their partners who are looking for work.
Gary spoke about TEC's WorkConnect programme which provides coaching and mentoring support to recent migrants to help them to prepare for the New Zealand job market.
James spoke about the Wellington Skilled Newcomers Programme, which builds connectivity between job-seeking migrants and employers that need their skills. The Wellington Chamber of Commerce's programme is one of five Regional Skills Matching and Job Search assistance programmes provided in seven regions nationwide by Chambers of Commerce and economic and community development organisations.
Next, Sergeant Phil Pithyou, Wellington Ethnic Liaison Coordinator for the New Zealand Police, gave a presentation about Ethnic Safety Patrols. These draw on volunteers from a range of ethnicities and cultural backgrounds.
The patrols help migrants feel safer in their communities and more comfortable about asking the Police for help. As volunteers, the patrol members participate in the life of the wider community, and some have gone on to join the Police.
One of the meeting's highlights was hearing from two patrol members, one of them a former refugee who heard about the patrols during his time at the Mangere Resettlement Centre. Both are training to be Police Officers.
June Rout, INZ Settlement Unit's Project Manager for Welcoming Communities, spoke about Welcoming Communities, which brings local government and community leaders together to make their communities more welcoming for newcomers and to enable them to participate fully in local economic, civic and social life.
Nine New Zealand local councils in five regions (Tauranga/Western Bay of Plenty , Southland , Whanganui, Palmerston North and Canterbury)  are working with their communities to pilot Welcoming Communities from 2017- 2019.
Michelle Tayler, Communications Manager at the Human Rights Commission, shared the latest video from the 'Give Nothing to Racism' campaign.
Finally, Suzanne Malan Principal Advisor from INZ's Refugee Unit presented about the Refugee Resettlement Strategy and key focus areas for this year – the Language Assistance Services Project and the Refugee Employment Project.
The presentations sparked a high level of interest and enthusiasm from the wide range of agencies that attended, all of whom have a particular interest in diversity and inclusion issues. If you would like to find out more about the Migrant Settlement and Integration Strategy, Settlement Unit activities, or any of the initiatives highlighted above, the INZ Settlement Unit would be delighted to hear from you.
settlement.information@mbie.govt.nz