Sector news
The latest news from the settlement sector.
Clutha District Settlement Support win Supreme Award
Clutha District Settlement Support have won the Supreme Award at Clutha's biggest annual celebration of volunteers, the Trustpower Community Awards.
Trustpower Community Relations Representative Alice Boyd said Clutha District Settlement Support stood out because of their creativity, impact, and input of their volunteers.
"Clutha District Settlement Support volunteers dedicate their time to helping newcomers to the community settle in, have a sense of belonging, and find their way around the beautiful Clutha District," said Miss Boyd.
"Often newcomers are migrants who have moved from overseas, and the educational, cultural and social activities organised by Clutha District Settlement Support volunteers help them contribute and become valued members of the community" she said.
The group's initiatives include English language classes, driving classes and seminars. The group's Clutha Culture Feast 2017 brought together about 500 people to celebrate diversity and enjoy a range of cuisines.
The group partners with agencies such as Rotary, the Clutha District Council, English Language Partners and Citizens Advice Bureau to provide a support network.
For winning the Supreme Award, Clutha District Settlement Support received a framed certificate, a trophy, and $1,500 prize money.
The Clutha District Settlement Support will go on to represent the Clutha District at the Trustpower National Community Awards, taking place in the Queenstown Lakes area in April 2018.
Photo: The Supreme Winners of the Clutha District Community Awards with Clutha Mayor Bryan Cadogan.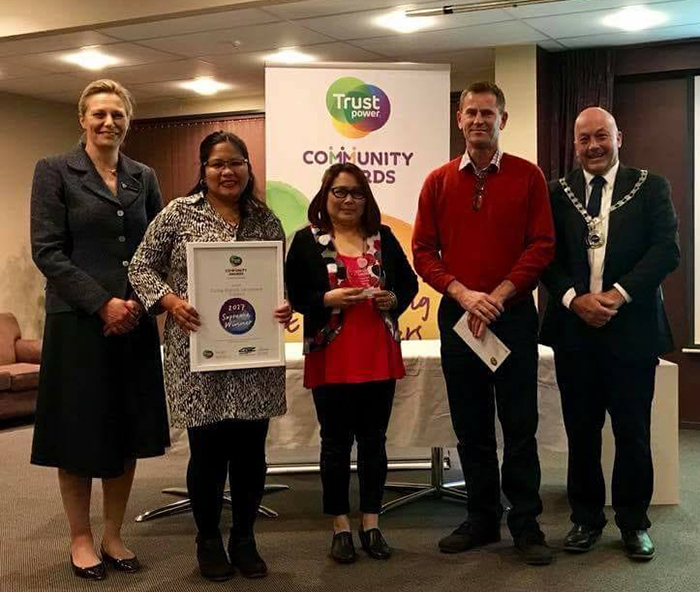 Hawke's Bay Asians in the Bay Awards
Hawke's Bay's annual Asians in the Bay Awards were held in August. Created to recognise the contribution that Asians make to Hawke's Bay, the Awards are broken into six categories: professional, business, restaurant, secondary school, tertiary student and community. This year's keynote speaker was Vanisa Dhiru, Vice President and International Secretary of the National Council of Women New Zealand. The Awards were first held in 2012.
Vanisa Dhiru's profile on Super Diverse Women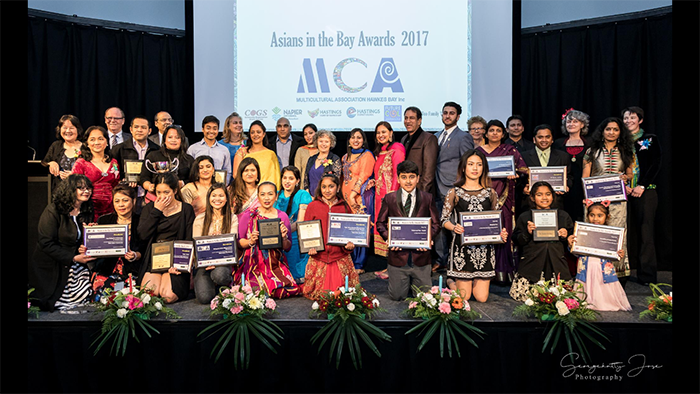 Measuring the success of the New Zealand Migrant Settlement and Integration Strategy
The Second Dashboard Report 2016, which shows outcome indicators for the New Zealand Migrant Settlement and Integration Strategy has been released.
The five Settlement and Integration Outcomes are:
Employment: Working-age migrants have work that matches their skills and New Zealand-ready qualifications.
Education and Training: Migrants achieve educational and vocational qualifications.
English Language: Migrants confidently use English in their daily lives.
Inclusion: Migrants participate in and have a sense of belonging in their community and to New Zealand.
Health and wellbeing: Migrants enjoy healthy lives and feel confident and safe.
Outcomes Indicators - Second Dashboard Report 2016 PDF 422KB
Waitemata District health board
Once of services operated by Waitemata District Health Board is eCALD, the mission of which is to improve cross-cultural interactions and understanding between health practitioners and CALD patients/families; between staff, as well as between manager and staff.
The latest issue of the always informative eCald News includes:
eCALD Research Commentary 11th Edition:Experiences of migrant and refugee background families of palliative care in NZ and other settlement societies
Growing up in New Zealand: Now We Are Four
The Association of Nutrition Action (ANA) Asian Forum 2017
Cross-Cultural Group Presentation: Identification and Management of Elderly Asians at Risk of Suicide in the Community and Nursing Homes [11th October 2017]
Radiology Patient Information in Arabic Language
Asian Health & Wellbeing Day [Auckland DHB]
Cross-Cultural Group Newsletter: Support Group for Chinese Families of Patients with Major Psychiatric Disorders
Auckland Emergency Management Resources in Chinese Language
Growing Stronger Together
Growing Stronger Together is an activity booklet developed by Asian Health Services (Waitemata DHB) for children aged 5-12 who have a parent living with physical or mental illness. The booklet aims to develop positive coping strategies and a stronger relationship between parent and child. It is available in English, Mandarin Chinese and Korean.
English Language Partners
The latest issue of the English Language Partners magazine Connecting Cultures is out. The magazine includes information about a Police recruit literacy programme and the results of a survey of volunteer home tutors.
Police Recruit Literacy Programme
A new programme operated by English Language Partners focuses on bringing learners to the reading and writing level required to join the New Zealand Police. The 18-week courses are offered in Auckland, Waikato and Wellington. English Language Partners Wellington has had good success with the programme.
This, says centre manager Zlata Sosa, is partly due to a strong relationship with the New Zealand Police. "We have worked hard at this and it's paying off," says Zlata.
The Police Recruit Literacy Programme.
Survey of English Language Partners home tutors
A major survey of English Language Partners' ESOL home tutors, past and current, has found the programme adds significant value to the lives of learners and volunteers.
The future of volunteer home tutoring report
SkillsConnect Canterbury
SkillsConnect Canterbury, a service delivered by the Canterbury Employers' Chamber of Commerce that connects Canterbury employers with job-seeking migrants, has a new web site.
Asia New Zealand Foundation
A survey of senior secondary school students conducted by the Asia New Zealand Foundation shows a decrease in the percentage who believe Asia-related skills and knowledge will be important for New Zealand's future workforce and in the percentage of students who are learning (or have learned) an Asian language.
Losing Momentum: School Leavers' Asia Engagement report
OECD Centre for Educational Research and Innovation
There is good news for New Zealand in the latest Trends Shaping Education 2016 published by the OECD's Centre for Educational Research and Innovation: the attainment gap is small or almost non-existent for migrants in Australia, Canada, Ireland, and New Zealand when comparing non-migrant and first-generation students.