Bringing Asian students and new migrants to understand health using social media
By Samantha Bennett, Asian, Migrant and Refugee Health Manager, Auckland DHB and Waitemata DHB.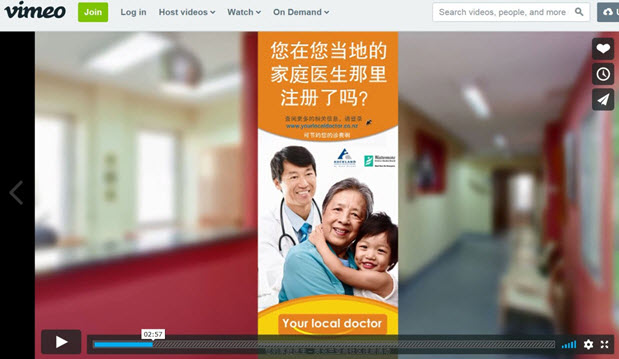 One the five outcome statements in the New Zealand Migrant Settlement and Integration Strategy is "Health and wellbeing: Migrants enjoy healthy lives and feel confident and safe.
How do you reach out to people whose first language isn't English and who may not engage with mainstream media? This was the question we asked ourselves at Auckland District Health Board (DHB) earlier this year.
In recent times, many migrants and international students have chosen Auckland as a place to live, work and study, but not all of them understand how the New Zealand health system works. This lack of awareness can cause problems. It may mean people miss out on the benefits of having a family doctor or clinic, or that they present to hospital emergency departments with conditions that could have been treated in primary care.
To help quantify matters, in 2016 Dr Lifeng Zhou and I surveyed 318 Auckland tertiary students, both domestic and international, to find out about their awareness of health services and health information in the Auckland District.
We found that international students tended to have a lower level of understanding of the New Zealand health and disability systems and were less likely to have a regular family doctor or clinic to go to.
We also found that the students used online media, family and friends as their main sources of information.
So when the Auckland DHB wide ran a multilingual campaign called 'Healthcare – Where Should I Go' over eight weeks in April to June 2017, we chose to make primary use of social media.
Our target was students and new migrants from Chinese, Korean, Indian, Filipino, Vietnamese, Japanese, Russian and Middle Eastern communities living and studying within the DHB's boundaries.
To help us, we engaged an Asian media provider [Asia Works] to deliver the campaign, using a range of ethnic media platforms and channels.
Every week we ran a new case study story, which was first tested by our Health Literacy team for plain language and understanding.
The social media we used included Facebook, WeChat (Chinese social media mobile application), Skikiwi (the largest Chinese language website in New Zealand), Kakao Talk, (a Korea-based multi-platform texting app) and Instagram. The ethnic media channels included the Chinese Herald, the Indian Weekender and the Korean Post.
We gave interviews to ethnic TV channels and promoted the campaign through Google adwords and on partner websites.
Every week we sent out blast e-mails to key stakeholders, such as government agencies, non-government organisations, universities and private training establishments and ethnic partners.
We also promoted an excellent series of online videos explaining the New Zealand health and disability system. Available in English, Chinese and Hindi, these are hosted on the locally-developed multilingual Your Local Doctor website.
Clearly, as New Zealand has become more culturally and linguistically diverse and as the ways in which people receive information have become more fragmented, getting your message out to the wider community has become more challenging.
Running the 'Healthcare – where should I go'campaign has been a fascinating learning experience and it now paves the way for future public information campaigns.
Lessons From the Healthcare – Where should I go Campaign
Make sure your message is health-literate and tested with your ethnic specific audiences
Use a suite of mixed methods to disseminate the message based on age, and ethnicity and language communication preferences
Use ethnic-specific case stories to personalise the message
Think 'outside the box' e.g. sports places/clubs that your audience engage with recreationally.