Going the extra mile
Jude Ryan-O'Dea has retired from SkillsConnect Canterbury after 13 eventful years.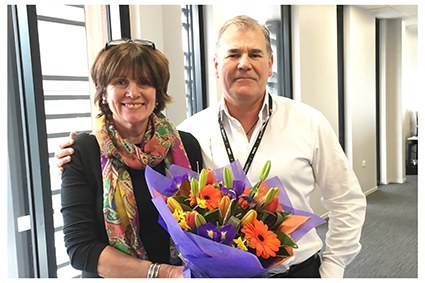 Six years on from the Canterbury earthquakes, Jude Ryan-O'Dea is looking forward to some serious gardening. Jude's home in Papanui, one of the thousands damaged, is now officially repaired.
The garden, on the other hand, is "wrecked", she says, something she now plans to fix, having just retired from SkillsConnect Canterbury, the programme she helped establish.
"I will spend the next few months landscaping it and getting it back in order. It's a nice thing to be doing in spring."
It was in 2004 that Jude took the job she is now leaving.
Peter Townsend, the Chief Executive of the Canterbury Employers' Chamber of Commerce, had secured a contract with Immigration NZ for the Chamber to offer a job search, support and placement programme that would help migrants become work ready and educate employers in settling migrant employees.
He thought that Jude, who had been a teacher for 15 years before moving to the private sector, would be an ideal choice to lead the service.
Her appointment coincided with the arrival in Christchurch of about 30 Tampa refugees.
These were Shia Muslim men from a traditional society; their wives were in back in Afghanistan or in refugee camps in Pakistan.
"I thought, well I have to be sensitive to their cultures, so I imagined myself wearing long-sleeved jerseys and long skirts," says Jude.
She remembers driving the refugees around Christchurch, introducing them to potential employers, and afterwards invariably being invited for cups of mint tea.
"They were really delightful. It was a huge transition for them. They had never had to fend for themselves and now  they were having to cook meals and do their own housework."
She also remembers the 2004 migrant environment as very different from that of today.
"At that time, we had a lot of Civil Engineers and Microbiologists and Laboratory-type people who couldn't find suitable work; people who had skills that fitted their country but didn't necessarily fit with employer expectations here. They came in with such high hopes and expectations."
And many employers, for their part, had little or no experience of having different cultures within their workplaces.
"I put a lot of energy in to breaking down those barriers. I can think of one employer, a very successful manufacturer, who took on about five Afghani women. He was a lovely person, accepting of their culture and melding it into the culture of the workplace."
The programme was proving its worth when Canterbury was devastated by two major earthquakes.
At first, the number of migrants to Canterbury declined following the quakes, but as the rebuild commenced, they began to grow again, with bricklayers, carpenters and joiners heading  the list of permanent and long-term arrivals.
Christchurch has changed. "I think the vibrancy of having all these different cultures in our city has been wonderful; it has created quite a different feel. Christchurch people have embraced diversity."
In her role for SkillsConnect Canterbury, Jude spent a lot of her time working one-to-one with her clients, "ensuring they had CVs that worked for them".
Once their CVs were in good order, she encouraged her clients to approach employers and employment agencies, and she scanned websites for suitable jobs, e-mailing her clients if she spotted something.
"I also direct-marketed my clients to the industry sectors relevant to their skill sets, and this worked very well for me and for them."
Thirteen years after the arrival of the Tampa refugees, Jude now comes across their children, who are graduating from university and going on to successful lives.
"It has been a wonderfully rewarding career. My husband and I have been privileged to be invited to citizenship parties and have even attended an Afghani wedding.
"When you see the journeys people have made in search of better lives for themselves and their families, you realise how much we take for granted. We should acknowledge how incredibly lucky we are."